Create Any Mood You Want With Art…
When was the last time you looked at your home or office with an objective eye? Is it boring and bland? Does it lack personality and energy? Could it be more welcoming, inspiring, and relaxing?
Art is one of the best ways to bring life and personality to your environment. See how art transforms rooms by viewing the examples of some of our members' art installed in different spaces and reading their comments.

Please visit the artists' pages (click their names) to see more of their artwork and read about them, then visit their websites and contact them to purchase their work.
Enjoy the views!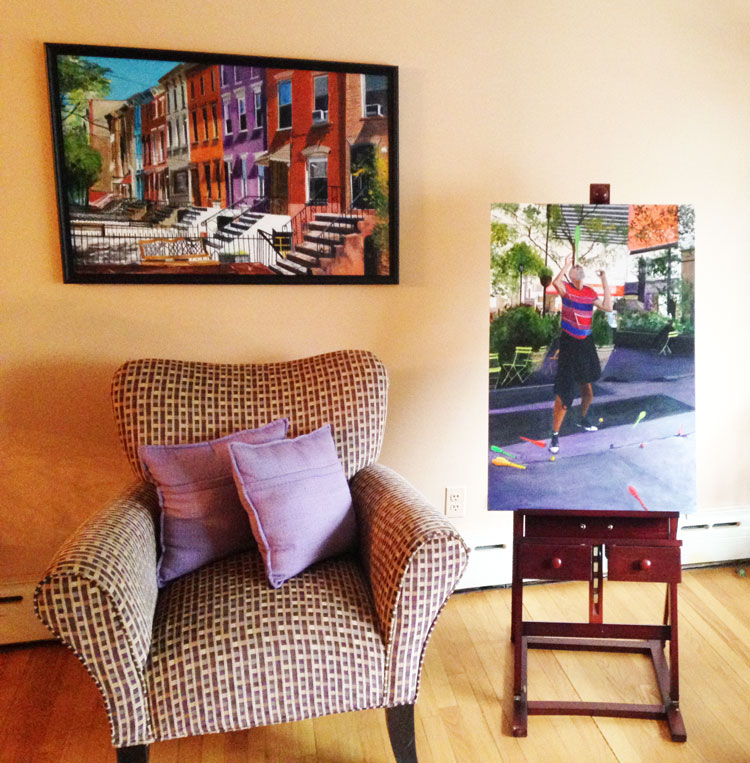 Elliot Appel explains, "My artwork adds elements of city life to any environment. The colors, street performers and architectural styles that I portray make any room come alive with the heartbeat of the city."
His vibrant paintings enhance the geometric pattern of the chair and the shades of purple bring a warm glow. Careful thought was exercised in bringing these elements together for  consistency, harmony and balance. Appel also shows us that not all paintings need to be hung on walls. Prop a painting on an easel which can be found in an antique shop, garage sale, or art supply store.

Victoria Pendragon makes this important point: "Paintings don't always have to hang on the wall… and they don't necessarily have exclusive rights to easels either." This painting found its perfect destination. Pendragon's paintings bring a powerful healing energy to any location.
Victoria explains, "In this large round room, the painting, 'Imagining in the Ineffable', overlooks a Great Room that contains four distinct 'activity areas,' informing everyone who enters the space of what is important to the people who live here. The painting, close to the ceiling and held in place by a discrete rubber pad that is invisible to viewers, is situated between some of the owners' favorite books, each on its own easel. A large merkaba in a field of luminescent colors that catch the changing light of day from the windows that almost surround the room, draws immediate attention to what has become almost an altar to curiosity, intelligence, learning, and open-mindedness and seems to infuse the space with creative energy."

Elaine Hunter has brought a sense of serenity to this bedroom by adding a photograph above the bed. Her photograph could also be displayed across from the bed on the opposite wall.  Imagine drifting off to dreamland while viewing this image.

The artist emphasizes, "This photograph is perfect for a bedroom. The golden moon and reflections in the water are very soothing to look at. The image is a focal point in the bedroom creating a relaxing mood for sleep. I take many pictures of the moon and this is one of my favorites. This image is in some of my clients' bedrooms and they love it."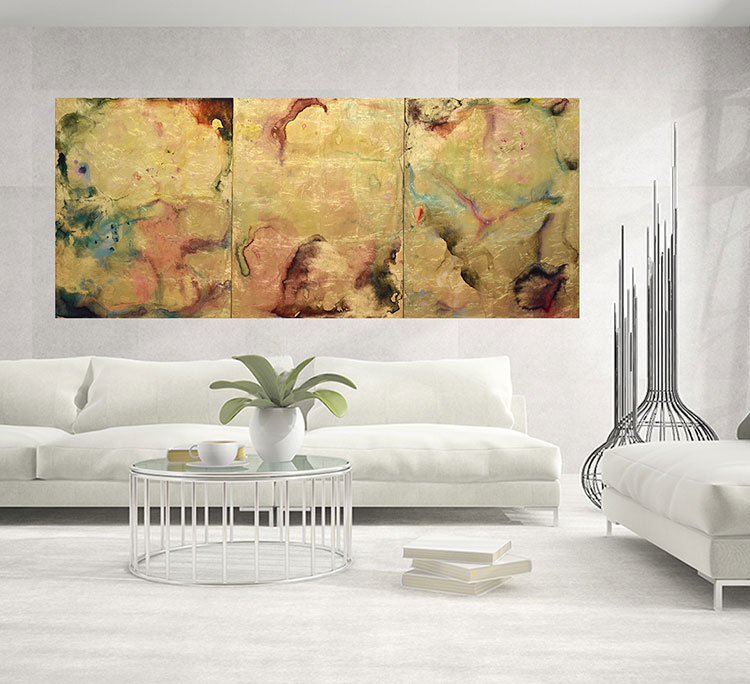 Nancy Reyner's artwork has won many awards and is included in numerous collections. She is also an author of books related to creating art with perfection. Suffice to say, she is an art expert. Her work of art brings a sophisticated elegance, drama and warmth to any space.
Here's what she has to say about this amazing work of art shown in the picture above: "The painting 'Splash and Pop', created on a background of gold leaf, adds an exciting element to this neutral toned interior. Gold offers a warming and welcoming component — a great addition for a living room — and the abstract imagery makes a bold statement while staying compatible with the contemporary look of the room."

Frantisek Strouhal's art is referred to as "Art Embracing Awareness". As seen here it can also be described as "Art embracing sweet dreams".  As you gaze at this work of art, you immediately leave the worries and tensions of the day behind you.
The artist remarks, "The artwork 'To the Other Side' brings about an atmosphere filled with light, and warmth which spreads through the bedroom and its surroundings. It creates an uncluttered and relaxing sanctuary for those minutes or even seconds before going to sleep. Also, its pleasant scenery infuses the space with tranquility and peace and offers a respite from the chaos of a busy life by immersing the person in soothing colors and textures inspired by nature."
Chantal Leblanc creates award-winning abstract paintings. About the painting "Butterflies A Top of My Head" she explains, "It was painted from remembered feelings of overwhelming joy and hope, I felt when, as a child, I would lie on my back in my mom's garden and how connected I felt, to the trees and all other living creatures going about their daily routine.
Not meant to mirror this remembered landscape, this painting emanates joy and hope and all the promises a blooming spring day carries into this otherwise neutral space. It is young and whimsical, a true reflection of the occupants, who remain young at heart."
Soft neutral colors can be peaceful, but when using them in large doses they can be dull and sterile. One solution is to add a vibrant nature-inspired painting like this colorful work of art by Esther Sternberg. It brings the outdoors inside.
Consider allowing a work of art provide the inspiration for a room. Let it be the focal point. When you start with the right work of art you can select the colors from it for a chair, draperies, pillows, throw, or other accessories.
Did you enjoy this showcase? Can you visualize any of the artists' work in your space?