The French Symbolist painter, printmaker and pastelist Odilon Redon, wrote, "The artist submits from day to day to the fatal rhythm of the impulses of the universal world which encloses him, continual centre of sensations, always pliant, hypnotized by the marvels of nature which he loves, he scrutinizes. His eyes, like his soul, are in perpetual communion with the most fortuitous of phenomena." Redon's sentiments have been shared by millions of artists over centuries. Nature in art will continue to inspire artists and viewers for centuries to come.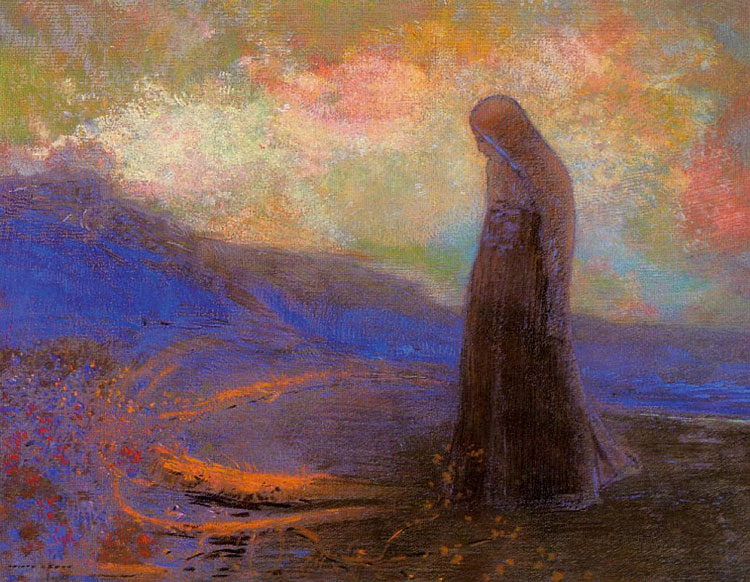 American artist and theorist James Abbot McNeill Whistler remarked, "Nature contains the elements, in color and form, of all pictures, as the keyboard contains the notes of all music. But the artist is born to pick and choose… as the musician gathers his notes, and forms his chords,until he brings forth from chaos, glorious harmony."
Abstract Expressionist artist Joan Mitchell explained, "I paint from remembered landscapes that I carry with me – and remembered feelings of them, which of course become transformed. I could certainly never mirror nature. I would more like to paint what it leaves with me." She also said, "Sunflowers are like people to me."
Vincent van Gogh advised us, "Keep your love of nature, for that is the true way to learn to understand art more and more".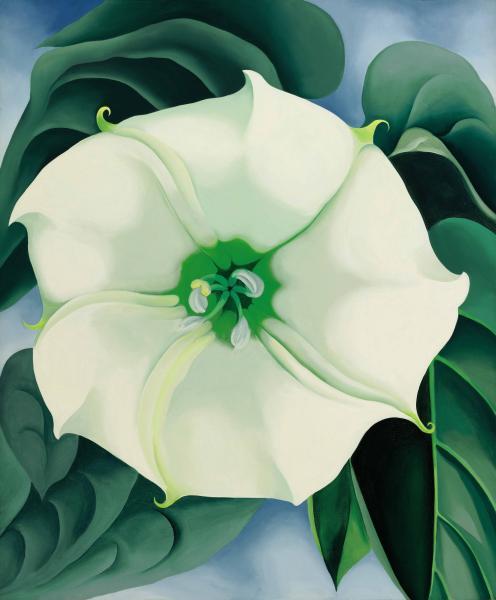 Georgia O'Keeffe, painter of Jimson Weed (above) commented, "When you take a flower in your hand and really look at it, it's your world for the moment. I want to give that world to someone else. Most people in the city rush around so, they have no time to look at a flower. I want them to see it whether they want to or not."
Frank Lloyd Wright, the American architect known for designing structures that were in harmony with humanity and its environment, once said, "Study nature, love nature, stay close to nature. It will never fail you."
"Great art picks up where nature ends," quipped Marc Chagall.
About Nature in Art by Some of Our Esteemed Members
Now let's look at some of the best works of art and quotes about nature that have been created by some of the members of Manhattan Arts International. As you view their art allow their images to speak to you beyond their surfaces. Observe how they interpret nature. Notice the differences among the artists and why they choose their preferred styles and mediums. Read about their motivation and convictions. View this completely with your open heart, mind and soul.  Take your time, savor each image, and visit the artist's pages and websites.
Artist and  author Nancy Reyner proclaims, "Nature is my guiding principle to portray luminous notions of air, water, earth and light. Creating imaginary new worlds, merging the literal and the metaphorical, my paintings hover somewhere between pure abstraction and realistic landscape."
Mason Mansung Kang, Sunset at Bolinas Lagoon, oil on canvas, 48″ x 36″.
Realist painter Mason Mansung Kang asserts, "The visual changes of the natural world, with unending colors and values that exist in light and shadow over each season and over time, create variations of moods and emotions that always affects my mind. I struggle to observe these subtle colors, but also enhance the colors that are usually not noticed by untrained eyes. To share this beauty is the goal of my efforts."
Photographer Teri Leigh Teed professes, "It is my profound belief that there are many mystical places on our wonderful planet that possess the power to heal, to reconnect to us our right balance physically, spiritually and emotionally. Sometimes the seemingly ordinary, seen in detail or in a different light, can open us to the possibilities that surround us. We need only open our hearts and minds, and our eyes will find them."
Ober-Rae Starr Livingstone explains, "Most of my paintings are not of specific places.  They are a compilation of feelings generated over years while experiencing such awe-inspiring scenes as the sun setting over snow covered Himalayas or shining through the fog on a remote coastline bordered by pine and cedars."
Gayane Karapetyan (known as Gaya) informs us, "With the power of colour, I try to capture the beauty of landscapes, light refractions, mysterious fluctuations of water, texture of flowers, and deviational patterns of a moving form."
Mary Lou Dauray, Hawaiian Light, oil on canvas, 10″ x 8″.
Environmental  artist Mary Lou Dauray tells us, "I am creating paintings that reflect the beautiful bounties from Mother Nature that continue to exist. Creating these works is healing and hopefully is re-energizing me to continue in the near future with my paintings reflecting my concern for our planet's mantle."
Sumi-e painter Darlene Kaplan explains, "When I was around 5 or 6 years old my mother would draw pictures of birds to keep us quiet. I grew up in the country in Tennessee and all of my spare time was spent walking in the woods searching out bugs, plants and anything else that was alive. Those childhood days spent with nature is brought alive every time I put a brush stroke down on paper. All of my paintings are derived from nature."
Photographer Elaine Hunter exudes, "My work is an experimental journey in search of the illusive world around us. Each image reveals the mystery and beauty in nature. When I see a landscape that fills my gaze and overwhelms my soul with its magnificence, my wish is to share that feeling by producing work that will catch your eye and reach into your soul."
Mixed media artist Allison Coelho Picone states, "As I observe Nature, I often dwell upon the light and goodness within every living thing." She adds, "As one witnesses Nature's pace, one may discover a rebirth of life."
***********************************************