If you're considering purchasing artwork created by an artist on this website you're making a smart decision. To help you make the final decision this article offers questions to ask before you buy art.
Darlene Kaplan, Wisteria Birds in Moonlight, Chinese watercolors, 27″ x 18″.
View her page.
About The Artists in Our Online Gallery
It's important for you to know that we are very strict about the artists we accept for the Manhattan Arts International online gallery. We have known many of the artists for several years. They are trustworthy. They have produced high quality artwork over a period of several years and received professional recognition from other influential art experts. They have sold artwork to individuals and their art may possibly be included in important public collections. You can consider buying art created by any of the artists in the online gallery with peace of mind.
Questions We Suggest
* What attracts me most to this work of art?
* Is it among the artists' best works?
* Does the artwork continue to engage me no matter how often I view it?
* Will my spouse/family agree with my choice?
* Does it make me feel relaxed? Energized? Happy?
* Is it intellectually inspiring?
* Do the colors complement my decor now and after I redecorate?
* Does the art remind me of my cultural heritage, favorite childhood memories, or pleasant travels?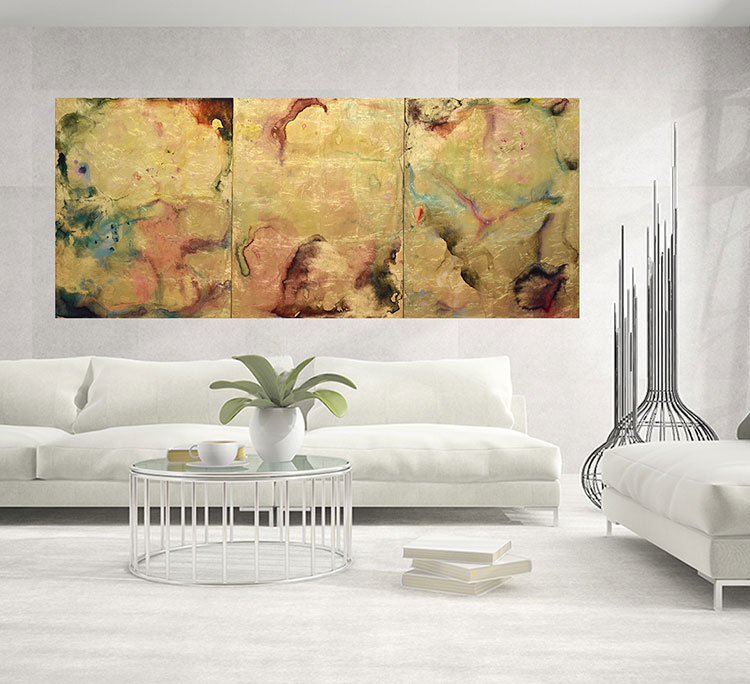 Above is Nancy Reyner's triptych painting shown in scale.
Read "See How Art Transforms Rooms"
* Where will I place it?
* Is it the right size for the place I have in mind?
* If we place this work of art in our company does it reflect our business mission?
* How well is it constructed?
* Does it fit my budget?
* What is it about the artist's vision that interests or impresses me most?
* Does the artist's professional track record (read their resume) justify the price?
* Is the artist easy to contact reach and replies to my email or call promptly?
* Does the purchase come with a return policy?
* Has the work of art been appraised?
* How large is the "limited" edition?
* Does the print come with a Certificate of Authenticity?
* Does this work of art fit into my existing art collection?
* What are the arguments against buying it?
* Should I get a second opinion?
* Will this purchase prove to be a good investment years from now?
Enjoy your purchase!