What You'll Find on the Manhattan Arts International YouTube Channel
We're excited to announce a new Manhattan Arts International YouTube Channel. Now you can enjoy viewing artist members' artwork, access information from our articles and interviews, and view art from our present and past online exhibitions.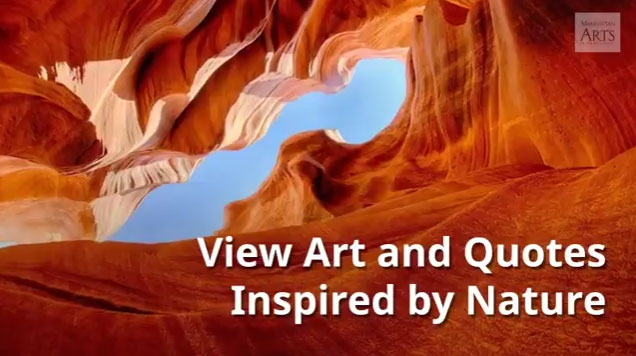 Artists Inspired by Nature, a beautiful presentation of several famous artists and Manhattan Arts members' artwork and quotations about how nature inspires their artwork.
9 Photographers and Digital artists from our website.
About Manhattan Arts International: A welcoming and informative video with images that explains what Manhattan Arts International is all about.
"New Beginnings" 2016-2017 is an excellent overview of the exhibition showcasing several outstanding artists from that Manhattan Arts International exhibition. You'll love this!
Call for Artists announcing our "New Beginnings" exhibition that will take place in 2018. 
You can visit the Manhattan Arts International YouTube channel and see all of the videos here.
More Videos on our Second Channel
We have another YouTube channel that features art, artists and advice to artists, created by Renee Phillips, Director of Manhattan Arts International. On the Renee Phillips channel you'll find several videos including…
See How Art Transforms Rooms – showcasing several Manhattan Arts International members with art placed in homes and offices. This give you a great idea of how their art will look in your space. View it here.
Positive Future For Maturing Artists – Quotes, Tips and Resources. I especially love this video with art, facts and quotes from artists, and resources for elder artists. And, the music rocks. I watch it while getting my morning workout. Check it out here. I promise you, you won't be able to sit still when you watch it!
Manhattan Arts International "HerStory" Exhibition. Take a look at several artists who were selected for this amazing exhibition here. To date, this video that has attracted the most views.
Manhattan Arts International "The Healing Power of ART" Exhibition. This video features the top winners. You can also watch the video on this page.
And, you'll love Inspirational Quotes About Art that you can enjoy here.
Enjoy Great Music With the Videos!
We select music to accompany each video — from classical to ambient. Take a break from your mundane or stressful day and watch the videos to get energized and relaxed.