Painter, Muralist and Creator of "America Today"
Missouri native Thomas Hart Benton (1889–1975) was a painter and muralist who helped establish a new art movement known as Regionalism. Along with fellow painters Grant Wood and John Steuart Curry, he rejected Cubism and other European trends in abstraction, depicting instead familiar stories from the American heartland. In his inimitable lyrical style he depicted everyday people in scenes of life in the United States. Fluid, sculpted figures are prominent in his work.
The artist was raised in a family of powerful political patriarchs. He credited his mother for supporting his early studies at the Art Institute of Chicago at age 16 and in Paris three years later. Unfortunately,  World War I interrupted his artistic training; however, when he joined the Navy, he was stationed in Norfolk. There, he was given the task of with painting ships entering the harbor to document their camouflage schemes.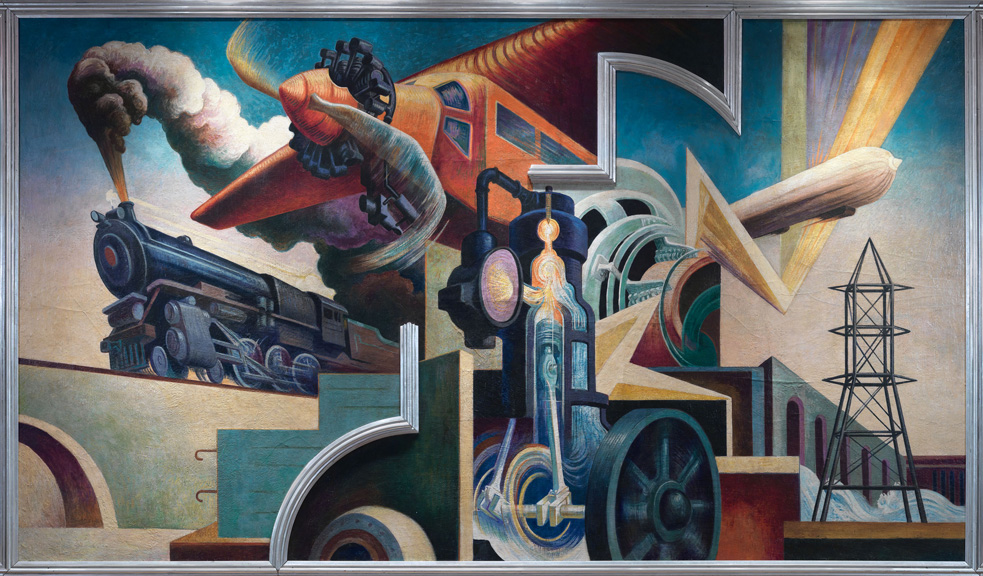 A Bold Combination of Styles
"America Today" was Benton's first major mural commission and the most ambitious he ever executed in New York City. It is a bold work of art that stands midway between the artist's early experiments in abstraction, signs of which are still evident in the mural, and the expressive figurative style for which he is best known today.
The mural consists of ten panels, egg tempera with oil glazing over Permalba on a gesso ground on linen mounted to wood panels with a honeycomb interior.
Depicting a sweeping panorama of American life during the 1920s, "America Today" ranks among Benton's most renowned works and as one of the most significant accomplishments in American art of the period.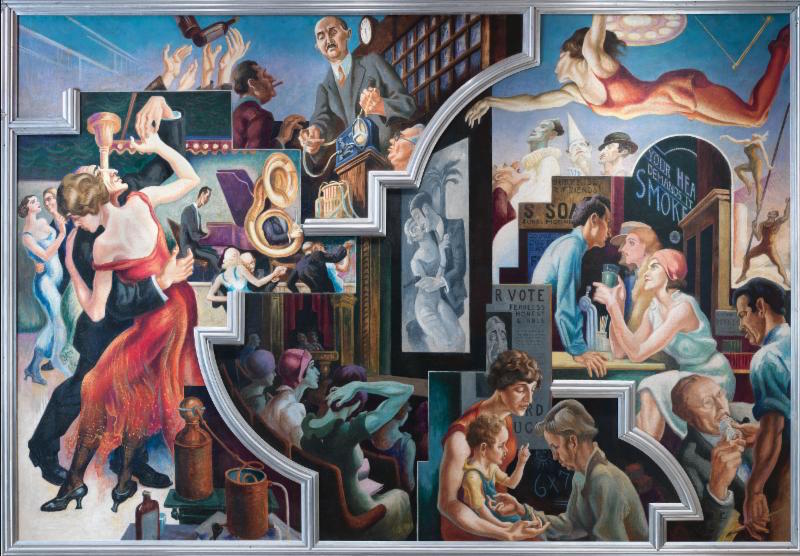 A Symbol of American Progress and International Modernism
In hindsight this mural stands out as a singular achievement of American art of the period. It served to legitimize modern mural painting as part of the Works Progress Administration's Federal Arts Project in the 1930s.
Thematically, the mural "America Today" evokes the ebullient belief in American progress that was characteristic of the 1920s, even as it acknowledges the onset of economic distress that would characterize life in the following decade.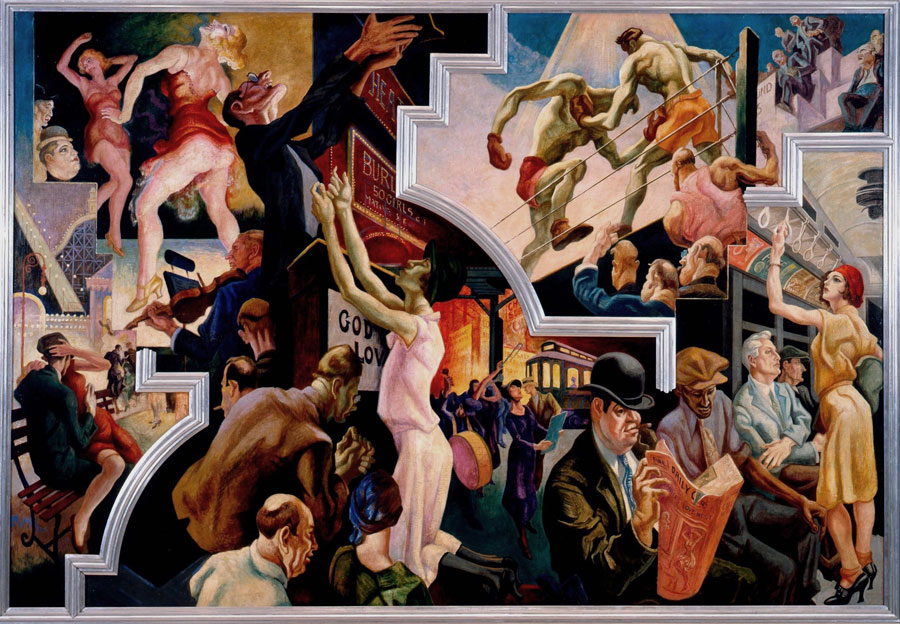 City Activities with Subway reflects the artist's invention of a robust muscular style which he intended to convey "the language of the street."
A Turning Point in International Modernism and in His Career
"America Today" was commissioned by the New School for Social Research's director, Alvin Johnson, who had fashioned the school as a center for progressive thought and education in Greenwich Village. It marked an important episode in international modernism. The great Mexican muralist José Clemente Orozco was commissioned to paint a mural in the New School at the same time, and the two artists worked on their projects concurrently.
Benton painted the 10-panel mural cycle in 1930–31 for the school to adorn the boardroom of its International Style modernist building on West 12th Street.  This work marked a turning point in Benton's career as a painter—elevating his stature among his peers and critics.
Banner image: Thomas Hart Benton's murals on view at the Metropolitan Museum of Art, New York, NY. Photo credit: Renée Phillips.