In my career I've had the honor and privilege of organizing numerous exhibitions in galleries, corporations and alternative spaces. Since 2000, when we launched the Manhattan Arts International website, I've had the opportunity to reach thousands of viewers a day for our online exhibitions. Every exhibition is a new and exciting challenge in which I'm introduced to extraordinary artists from around the globe. Several thousand artists have been promoted through Manhattan Arts International exhibitions.

The Purpose of Manhattan Arts International Theme Exhibitions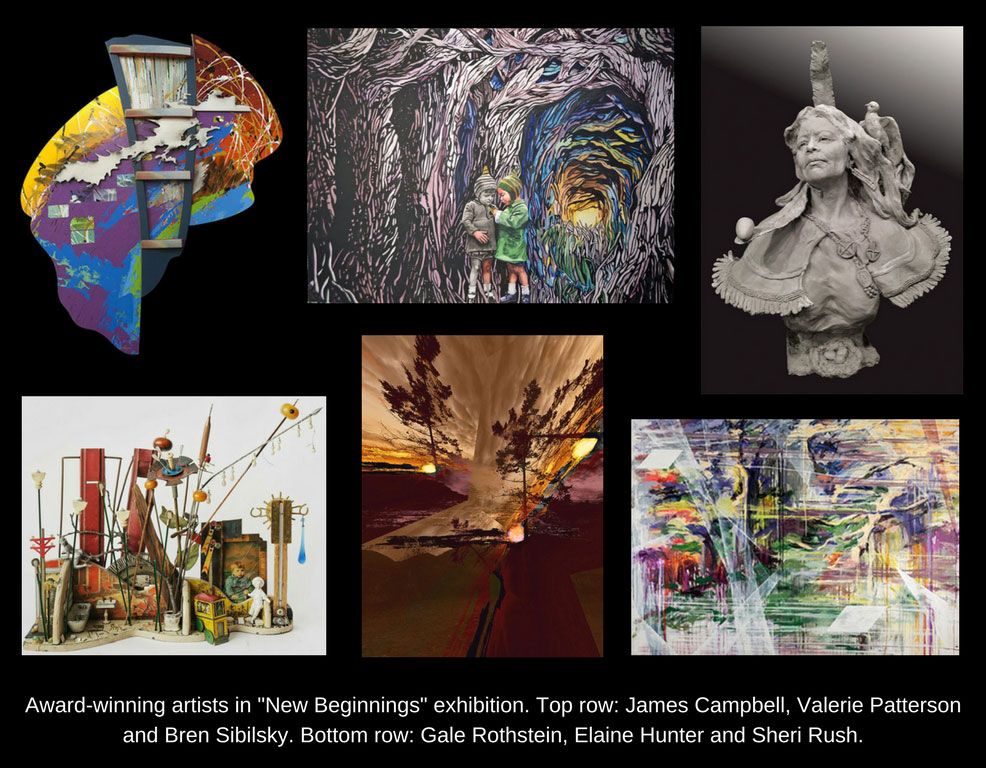 View the "New Beginnings" online exhibition, January 20 – March 20, 2018.
We organize exhibitions on such themes as: The Healing Power of ART; HerStory; and New Beginnings. We receive entries from artists around the world working in all styles and mediums and each exhibition features at least 50 artists.
Our mission is to promote artistic excellence. Artists, writers, curators, gallery owners and art buyers rely on us to adhere to the highest standards. We encourage as many visitors as possible to visit the artists' websites. We vigorously and continually promote the artists to our widespread international audience, across several social media platforms , so they can gain new followers and buyers and receive career opportunities.

In each of our exhibitions we strive to provide a multi-faceted visual experience,  to take viewers on  stimulating journeys that raise awareness. Each individual work of art must stand on its own merits and when presented together as a theme show, the total impact must be greater than the sum of its parts.
Our Judging Criteria
Due to our reputation of presenting high quality online exhibitions, we attract increasing numbers of the best artists for each exhibition. So, curating an exhibition takes an estimated 200 hours of my time and countless hours of my assistant(s).

I spend a lot of time repeatedly reviewing the entries. As the curator, I'm not only choosing works of art from the entries for a specific theme, I'm seeking the most deserving professional artists.

Before I select the finalists and top award-winners, I visit their websites (a requirement for entrants is they have to have their own websites). This is a rewarding experience and extremely informative. It informs me if they have developed a body of work on a consistent quality level, have a cohesive artistic vision, and have developed a professional profile. I examine their different online "portfolios", read their "About the Artist" pages and their artist's statements and evaluate many aspects of their sites. I will often observe their activity on social media. These steps, albeit time-consuming, are a vital and integral part of the overall judging and scoring process.

My hope is the exhibiting artists and our viewers gain as much pleasure from these exhibitions as I do curating them.
As I view each entry that is submitted, I ask such questions as:
Does this image have an immediate impact on me?
Does the artist communicate clearly in visual imagery?
Are all of the artist's entries equally accomplished?
Does this entry fit the theme?
Is the art photographed well?
Is the jpeg the correct size?
Does this artwork reproduce well on the Internet?
Has the artist submitted their best work?
Has the artist mastered their medium?
Does the art reflect a high level of originality?
Does it retain my interest after several viewings?
Has the artist achieved their own unique signature style?
Does the artist have a strong portfolio on their website?
Does their statement reinforce their entries and fit the theme?
Is the statement coherent without grammatical errors?
Does the art surpass the other artists' entries?
Which one of the artist's entries is best for this exhibition?
Should this artist be considered for one of the top awards?
To learn more about Manhattan Arts International's past, current and upcoming exhibitions visit this page.