Pondering the Depths of Botero's Fleshy Layers…
Fernando Botero is an internationally renowned modern master whose quintessential style of painting bullfighters, circus performers, imbibers, musicians, reclining couples and society women is characterized by exaggerated forms and disproportionate volume. His distinctive style is often referred to as "Boterismo".  In a career that spans more than 60 years his iconic subjects are included in countless museum collections around the world.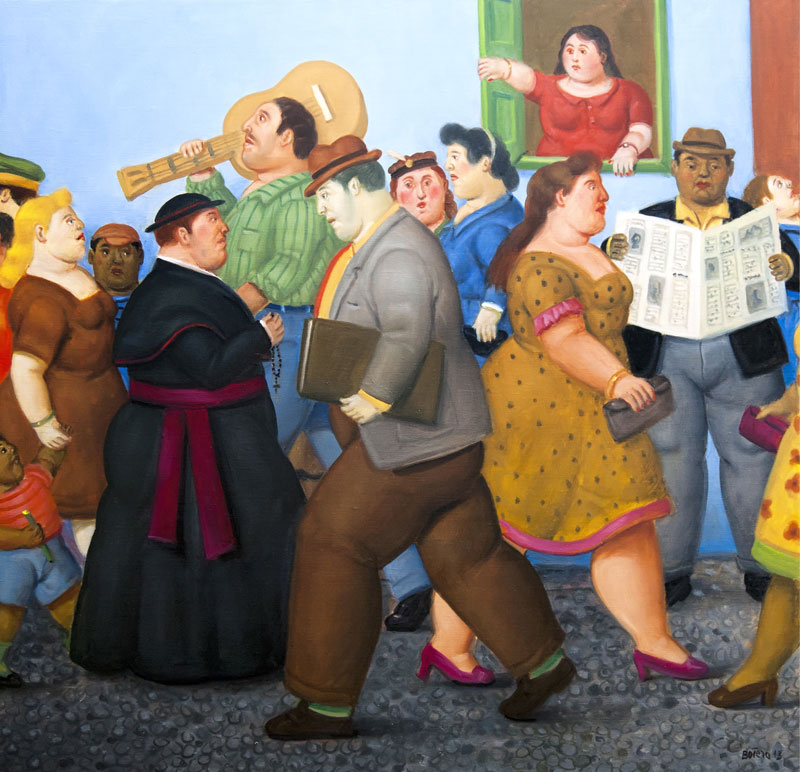 Fernando Botero, The Street, 2013, oil on canvas, 26-3⁄4″ x 28″. Courtesy of Galerie Gmurzynska.
He Left The Bull Ring to Pursue Art
Botero's life and art have always provoked interest for many reasons. Born in Colombia in 1932 he attended a matador school for several years in his youth, and then left the bull ring to pursue an artistic career. He had his first exhibition at the age of 16 years old and his first one-man show two years later in Bogota. His artistic idols included Diego Rivera, Francisco de Goya and Diego Velázquez.
Self-titled "the most Colombian of Colombian artists" early on, Botero came to national prominence when he won the first prize at the Salón de Artistas Colombianos in 1958. Throughout the 1950s, the artist began experimenting with proportion and size. After he moved to New York City in 1960 he began developing his trademark style.
His Mother Thought He Would Die of Hunger
Botero is reported as one of the world's wealthiest artists. His paintings and sculptures sell for millions of dollars and are in the collections of more than 50 museums. The artist is known for spending most of his time in Monaco, but he has been known to own homes in Paris and Colombia, Pietrasanta, Italy, and on the island of Evia, off the coast of Greece.
In 2014 while Botero was exhibiting at the Marlborough Gallery. in New York, NY,  Milton Estrow, Editor and Publisher of ARTnews magazine, did an interview with him. It was titled 'Botero: You Can't Be Liked By Everybody'. In the article Botero is quoted as saying, "My father was a traveling salesman. He died when I was five. He sold clothes and other things and he traveled on a mule. My mother was a seamstress. When I told my mother that I wanted to be an artist, she said, 'You're going to die of hunger.'"
He Appropriates Themes From Art History

Fernando Botero, Entombment of Christ/ Entierro de Cristo, 2010, oil on canvas, 59 x 79 7/8 inches. Courtesy of Marlborough Gallery, New York.
His sense of drama and theatrical flair is compelling, especially noticeable in the painting "Entombment of Christ", shown above. The subjects' expressions, bright colors, lighting and theatrical stage props add dimension.
Botero appropriates themes from various times in art history — from the Middle Ages, the Italian quattrocento, and Latin American colonial art to the modern trends of the 21st century.
He Has A Penchant For the Concept of Volume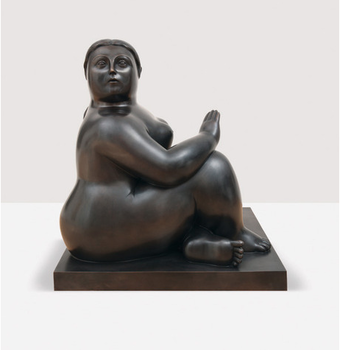 He presents portraits and self-portraits of figures with a balloon-like quality. There is something aesthetically alluring about sensuous, fleshy, round forms of his nudes.

Regardless how many round, bloated humans and animals Botero has painted and sculpted, it has been said many times that it is a common misconception that Botero is trying to comment on how society views the human figure. Instead, he implies, he simply has a penchant for playing with scale, an activity that profusely delights many artists.
As he transforms them to his own particular style I ask, is he celebrating grandiosity and the beauty of form in a positive manner? How does he compare with other artists such as the Flemish Baroque painter Peter Paul Rubens?
Botero has had his share of criticism however he has also been praised for his homage to Renaissance classicism "with a touch of social commentary and wit."
Is There A Message Beneath His Fleshy Layers?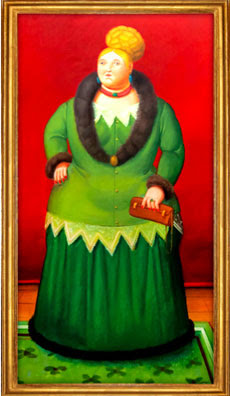 When I first became acquainted with Botero's art I was simultaneously appalled and intrigued. Questions whirled through my mind. I couldn't help but wonder, was he insulting people who suffered from obesity? Was he making a statement about gluttony, materialism, and over indulgence? Is he poking jabs at aristocracy? Maybe all of the above…
I didn't know whether to love his art or hate it, but I couldn't help but be enthralled. As I examined his art more closely, I began to see beyond my first impression. My curiosity and fascination began to increase and I subsequently learned to keep an open mind.
A clue can be found in his quote: "Man needs music, literature, and painting – all those oases of perfection that make up art – to compensate for the rudeness and materialism of life."
If Botero's art has been a commentary about social ills it wouldn't be the first time in art history that an artist served as a purveyor of truth with a purpose to raise our awareness.
Should we invite his art to serve as a catalyst for a discussion about body image, especially when obesity, discrimination, nutrition and health, and over-indulgence are such hot topics?
If any of these concepts play a role in Botero's artistic process, we may begin to understand his inimitable irony, humor, and ingenuity.

Botero's Public Art Sculptures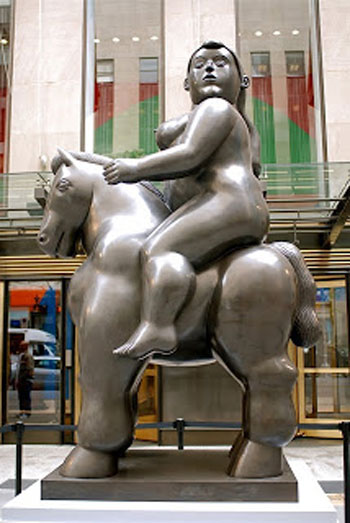 Botero has stated, "Sculptures permit me to create real volume… One can touch the forms, one can give them smoothness, the sensuality that one wants."
His alluring large bronze sculptures are visible in public locations throughout the world. You can find several of his outdoor sculptures on display as public art throughout New York City. For instance, his sculptures of  "Adam" and "Eve" greet shoppers at each escalator at the mall at Time Warner Center. His piece "Woman on a Horse", shown here, is displayed outside Christie's at Rockefeller Center.
As an artist whose mother once warned him he would starve if he pursued art as a career Botero's unique talent and determination and perhaps luck time took him in an entirely different direction. His art and life remain in the chronicles of art history and the timeless subject of interest, discussion and debate.