Sculpture That Emanates A Powerful Spiritual Presence
Bren Sibilsky is an award-winning artist from Wisconsin who has attracted many collectors from North America and Europe. She has won multiple awards in sculpture, painting and drawing. A graduate of the Milwaukee Institute of Art and Design, she is an instructor/founder of the Algoma Atelier of Sculpture and Art, in Wisconsin.

Woman of Prophecy, clay, 35" x 26" x 18".
Bren possesses an unlimited artistic potential and there is no subject beyond her extraordinary capabilities. She is equally proficient in creating animated poetic sculpture of full standing figures, equestrian statues, portraits, and reliefs in addition to poignant drawings and paintings.
When a work of art emanates a formidable presence as does "Woman of Prophesy" one becomes totally immersed in its power and potentiality. When I first viewed the image of this sculpture that she sent to the "New Beginnings" competition I was transfixed by the profound depth that radiates from every tactile detail. "Woman of Prophesy" is an awe-inspiring spiritual work of art that summons our focused introspection and awareness.  She is a supreme symbol of innate wisdom, enlightenment and rebirth. For these reasons and more, I did not hesitate to give it my Special Honor Award.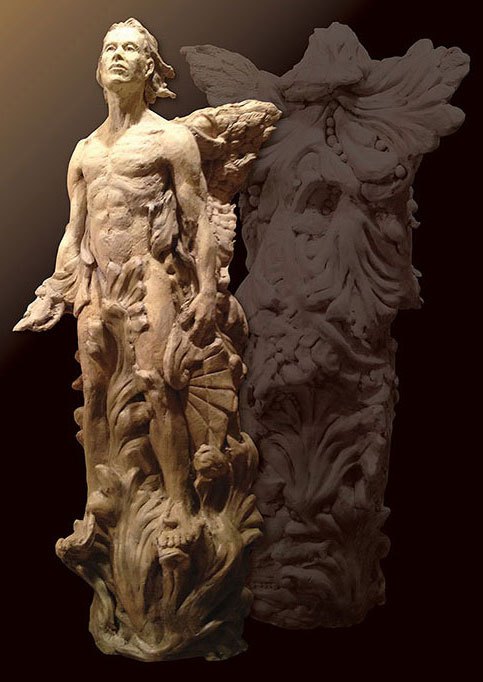 Bren Sibilsky, Fishers of Men, clay, 28" x 12" x 11".
Bren Sibilsky is an artist totally dedicated to her art career which has led to receiving many honors and awards that include those from International ARC Salon and the National Sculpture Society, New York, N.Y. Her many one-person and group exhibitions include those at: The Miller Art Museum; Koehline Museum; Fairfield Museum; and The Salmagundi Club of New York; among others. She has also received awards in Manhattan Arts International online exhibitions and has served on our Special Awards panel.

She was featured on the American Family Insurance website in their "Dream Fearlessly" advertising campaign and has been interviewed on WBDK radio. The many publications that have displayed her artwork include Professional Artist magazine, Luxe Beat magazine, Door County Living, and Door County Advocate.
Bren Sibilsky, Young Friesian Stallion, bronze on granite, 15″ x 8″ x 5″.
When Bren submitted her entry "Woman of Prophesy" she shared these words: "Follow your heart and eyes said the spiritual leader. So with inner eyes, I looked into my heart and found fear, as a precarious egg rolled down a feather. A prophetic woman appeared, understanding the egg would roll and break, assured me it is part of creation, explaining what is inside must be revealed. Trust the creative force of beginnings."
When I announced the criteria for this Special Honor Award, I stated, "I'm seeking an artist who demonstrates originality and superior technical prowess in their medium and style, has a cohesive signature style, but is under-recognized." Bren Sibilsky has all of these attributes. And, although she has achieved many accolades on an international level, it will be exciting to offer her new ways to build upon the momentum she has already generated.
For this award, Bren will receive two hours of my consulting services with career advice to take her art career to the next level. She will receive much deserved promotion across our widespread social media platforms and included in an article published on Artweek.com and in a Manhattan Arts International YouTube video.
Visit Bren Sibilsky's website at brensculpture.com