Quotes About The Healing Power of Art
Since 2000 Manhattan Arts International has been presenting an annual online exhibition titled "The Healing Power of ART".   We believe art holds the power to ignite the flame in our hearts and transform our minds. Art reveals the beauty and awe in the world altering our brain chemistry and inspiring spiritual awareness. Art is the key to connect to a higher purpose.

As much as art can raise our serotonin levels it can also elicit pain, controversy and empathy by mirroring the horrors of the human condition. Consider the impact of Picasso's Guernica,  the murals of Diego Rivera, Jacob Lawrence's "Migration" series and "War" series, and the enormous amount of social, political and environmental art that has been created through the ages. That category of art is vitally important as it raises awareness and inspires positive change.

We know through our "The Healing Power of ART" exhibitions, we contribute to raising awareness about the full range of benefits art delivers to the artist, viewers and to our society. We join the many experts around the world who believe in the importance of art. The quotes here represent their beliefs.


6 exhibiting artists from The Healing Power of ART 2016: First row: Ruth Reid, Bren Sibilsky, and Jane Caminos. Second row: Elynne Rosenfeld, Teri Leigh Teed, and Trixie Pitts.
"Art is a wound turned into light", exclaimed Georges Braque.
Florence Nightingale, the founder of modern nursing who lived in the 19th century, proclaimed: "Variety of form and brilliancy of color in the object presented to patients are an actual means of recovery."
Psychologist Dr. Dacher Keltner, of California University in Berkeley, said: "That awe, wonder and beauty promote healthier levels of cytokines suggests the things we do to experience these emotions – a walk in nature, losing oneself in music, beholding art – has a direct influence upon health and life expectancy."
Alex Gray, an American Visionary artist declared, "When artists give form to revelation, their art can advance, deepen and potentially transform the consciousness of their community."
"If an art installation gets a patient out of his room or paintings take a person's mind off their pain and lower their stress levels, the art isn't just decorative anymore. It's part of the entire model of care," said Dr. Lisa Harris, an internist and chief executive of Eskenazi Health, affiliated with the Indiana University School of Medicine.
In the words of Wassily Kandinsky: "Color is the keyboard, the eyes are the harmonies, the soul is the piano with many strings. The artist is the hand that plays, touching one key or another, to cause vibrations in the soul."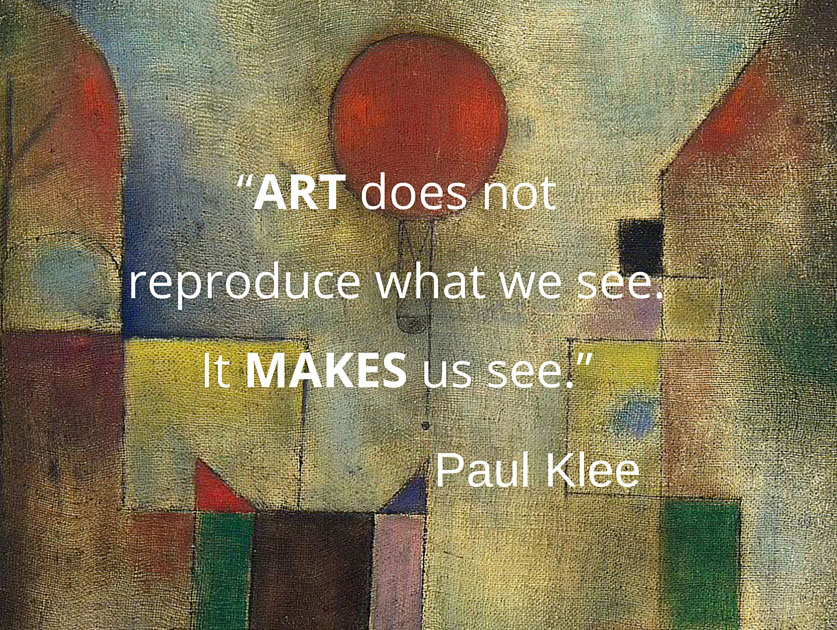 Art Advisory Ltd., an art consultancy firm in Chicago, IL proclaims, "The effects of colors, design and visual themes can make a dramatic impact on patients, residents and anxious visitors."
"The systems they (the Arts) nourish, which include our integrated sensory, attentional, cognitive, emotional, and motor capacities, are, in fact, the driving forces behind all other learning," stated Eric Jensen, author of Arts with the Brain in Mind.
Paracelsus was a physician, alchemist and a pioneer in several aspects of the "medical revolution" of the Renaissance. He wrote, "The art of healing comes from nature, not from the physician. Therefore, the physician must start from nature, with an open mind."
Chris Jordan, environmental photographer, exposes shocking amounts of American mass consumption with his evocative, meaningful and brilliant large-format, long-zoom artwork "to raise some questions about the roles and responsibilities we each play as individuals in a collective that is increasingly enormous, incomprehensible, and overwhelming."
"Art's therapeutic value lies in the thoughtful selection and placement of beautiful, uplifting artwork and tranquil, soothing Nature images. We work to develop evidence based art programs that transform the hospital experience for patients, visitors and staff." These remarks were made by DSA Art Consultants, Germantown, NY.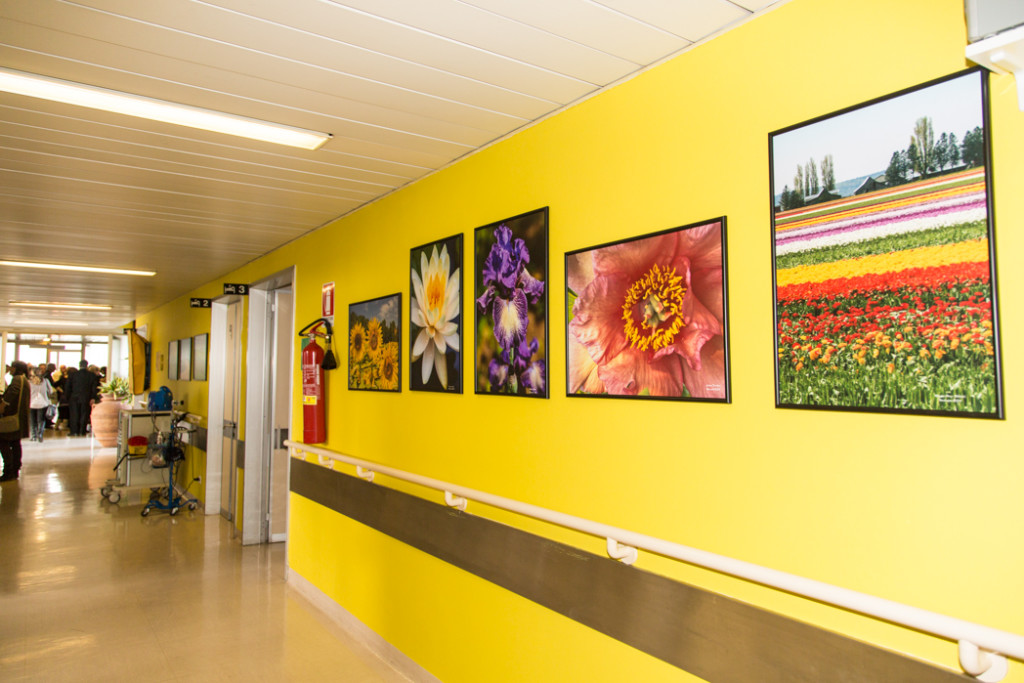 Elaine Poggi, founder of The Foundation for Photo/Art in Hospitals states: "The mood changes when our beautiful nature photos are placed on the walls, providing color, comfort, and hope to patients, caregivers, and loved ones." Above picture is of an installation in a hospital placed by this organization.
John Lubbock (1834-1913), wrote in "The Pleasures of Life", "Art is unquestionably one of the purest and highest elements in human happiness. It trains the mind through the eye, and the eye through the mind. As the sun colors flowers, so does art color life."
"Awe has many important implications for our well-being. Experiencing awe can give us a sense of hope and provide a feeling of fulfillment," notes Shilagh Mirgain, PhD, Psychologist, University of Wisconsin Health.
"It is through Art and Art only that we can shield ourselves from the sordid perils of actual existence", stated Oscar Wilde.
H. Marion Art Consulting Services specializes in serving the healthcare industry and states, "We understand that art plays a powerful role in the healing process."
Leonardo da Vinci stated, "Where the spirit does not work with the hand there is no art."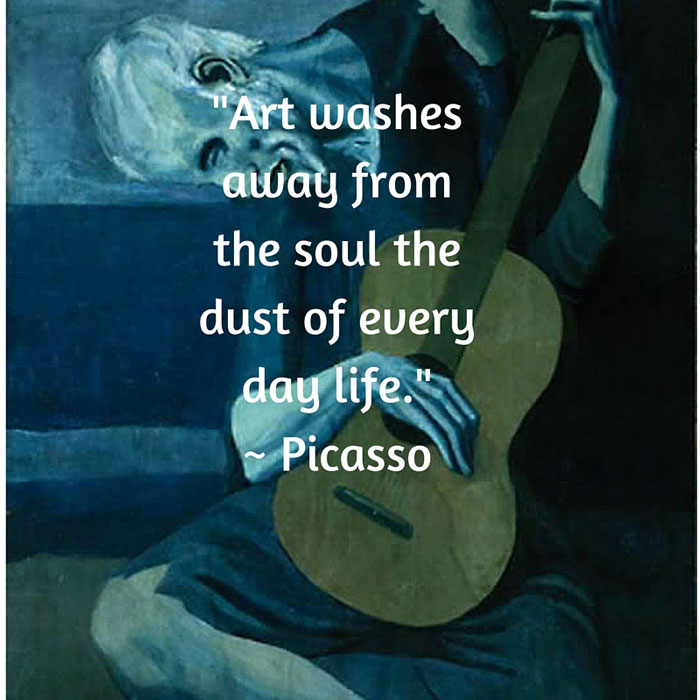 Robert L. Lynch, President, Americans for the Arts, wrote this statement: "During my 30 years at Americans for the Arts, I have had the great privilege to visit and learn about a different community nearly every week. While they differ vastly from one another, there is one common strength I have observed: the arts have made a profound impact on the health of each community."
Fran Eber is an artist who specializes in evidence-based artwork. She states, "Evidence-based art can heal, soothe and give people a greater sense of well-being. However, I believe it should be calming and exciting at the same time. So everyone can feel better — from designers and space planners to patients, caregivers and especially the staff that work in the medical facility every day."
Artist Scott Denholm is a member of the Ocean Artists Society that was founded by the well-known environmental artist Wyland. As Denholm explains "the organization uses ocean art to inspire people around the world to a greater awareness of our need to preserve our natural world."
~~~~~~~~~~~~~~~~~~~~~~~~~~~~~~~~~~~~~~~~~~~~~~~~~~~~~~~~~~~~~~~~~~~~~~
The medical profession has come a long way in recognizing the healing benefits of art. At Manhattan Arts International our hope is that someday the arts will be considered as significant in everyone's lives as breathing fresh air, eating clean foods, and performing physical exercise. That's why we will continue to organize "The Healing Power of ART" online exhibitions.

The quotes in this article are from my e-Book "Sell Your Art in the Healthcare Art Market" which contains more than 100 pages of information and resources related to selling art in this growing art market. We also discuss this topic in articles found on our other website The Healing Power of ART & ARTISTS. You'll find healing art by more than 60 artists in the online gallery.

 PLEASE COMMENT BELOW