An International Online Exhibition
With The Theme "New Beginnings"
More than 50 artists have been selected for this exhibition January 20 – March 20, 2018.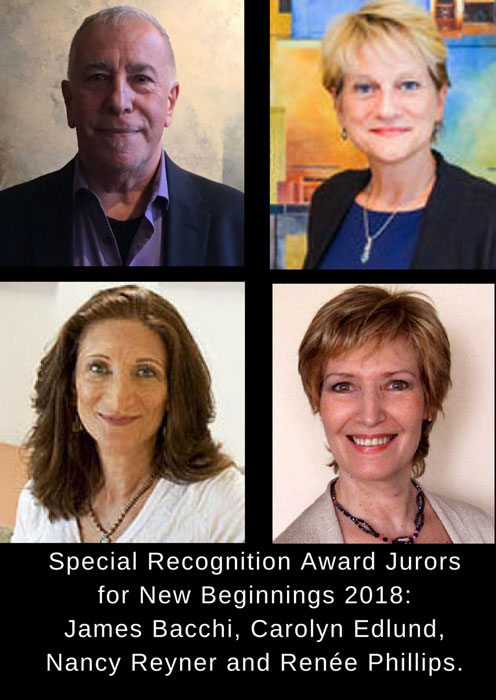 Top Winners
Valerie Patterson: Manhattan Arts International Featured Artist Award
James Campbell: Manhattan Arts International Featured Artist Award
Bren Sibilsky: Renée Phillips Special Honor Award
Elaine Hunter: James Bacchi, ArtHaus Gallery Award
Gale Rothstein: Carolyn Edlund Artsy Shark Award
Sheri Rush: Nancy Reyner Award
To learn about the jurors' criteria visit this page.
Exhibiting Artists: Awards of Excellence
Elliot Appel, Lee Tisch Bialczak, Dawna Boehmer, Renata Bosnjak, Lisa Botto, Patti Bradeis, Len Cicio, Samantha Combs, Mary Lou Dauray, Cynthia Decker, Fernando Rodríguez Durán, Kristen Eisenbraun, Deb Ehrens, Michael Ehrhardt, Leanne Fink, Mary Gerakaris, Hayley Haddad, Joy Hagen, Carol Hanna, Laura den Hertog, Leonora Husveti-Frenette, Margarita Iakovleva, Karen Johnston, Helen Kagan, Katerina Kaloumenou, Darlene Kaplan, Kristina Kossi, Nancy Staub Laughlin, Linda Lowery, Alan Majchrowicz, Sue Miller, Davit Mirzoyan, Jill Pankey, Laura Paray, Denisa Prochazka, Roslyn Rose, Terry Runyan, Halide Salam, Jan Schnurr, Toni Silber-Delerive, Matti Sirvio, Ruth Soller, Kelly Sooter, Ronald Story, Ana Tamara, Teri Leigh Teed, Teri Vereb, John Weller, Yvonne Welman and Lis Zadravec.
Honorable Mention Awards: Names to be announced.
Widespread Promotion: "New Beginnings" at www.manhattanarts.com will be widely publicized across our social media networks, announced in the Manhattan Arts International weekly subscription-based e-newsletter, promoted on The Healing Power of ART & ARTISTS blog, Renée Phillips The Artrepreneur Coach blog, in addition to other venues. The top winning artists and selected Award of Excellence winners will be promoted on the Manhattan Arts International page on Artweek.com and on our YouTube channel.

Subscribe to the Manhattan Arts International email newsletter to receive updates on this and all future exhibitions.
Banner image: Painting by Leanne Fink, one of the exhibiting artists in the "New Beginnings" online exhibition.