An International Online Exhibition
With The Theme "New Beginnings"
Manhattan Arts International announces its Call for Artists for its annual "New Beginnings" online exhibition. We invite artists from around the world to submit their  images. All subjects, styles, sizes and mediums are welcome.

Widespread Promotion: "New Beginnings" at www.manhattanarts.com will be widely publicized across our social media networks, announced in the Manhattan Arts International weekly subscription-based e-newsletter, promoted on The Healing Power of ART & ARTISTS blog, Renée Phillips The Artrepreneur Coach blog, in addition to other venues. The top winning artists will be promoted on the Manhattan Arts International page on Artweek.com and our YouTube channel.

Two-month Exhibition: January 20 – March 20, 2018
Entry deadline: January 8, 2018
Eligibility: All artists 18 years or older, from all origins, who have their own website.
Media: All 2-D and 3-D media including drawings, paintings, printmaking, photography, digital art, sculpture, works on paper, wood, glass, ceramics, fiber art, mixed media and installation. No video/film.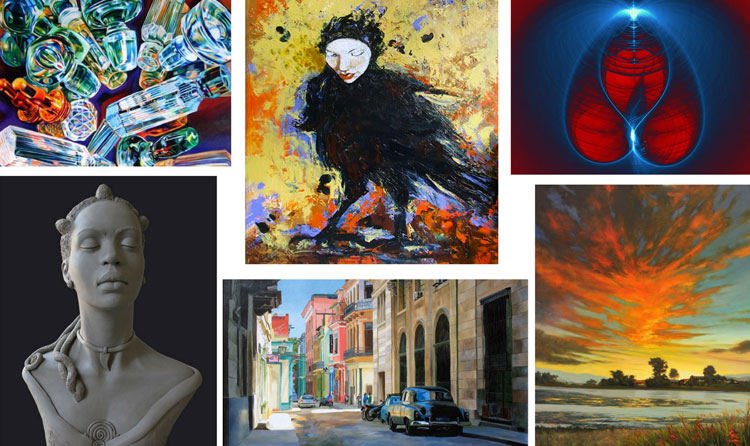 Curator: Renée Phillips
The notion of "New Beginnings" has unlimited interpretations — literally and metaphorically. With this exhibition we're seeking Artists who raise our awareness and show us the world we live in with a new pair of eyes.  We'll show a wide variety of interpretations of this theme in all traditional styles — from realism to abstraction — as well as art that implements new styles and mediums.

Judging Criteria: I will be seeking artists who show originality, mastery of their medium, and reflect the theme through their art and artist's statements. As with all exhibitions I curate, I ask, does this art have an immediate impact on me and does it retain my interest after several viewings? Has the artist found their own unique style that stands out from the other entrants? I will also be visiting the finalists' websites for a final evaluation before selecting the top winners.

Manhattan Arts International Awards
50 Artists will be selected for this online exhibition: One entry image from each artist selected will be shown with their statement and link to their website.
20Artists will receive an Award of Excellence
30 Artists will receive an Award of Merit
First Place Award
An article about the artist will appear in the Manhattan Arts International Articles section. The artist will have their art displayed on the home page top banner and will be promoted across social media networks and in the Manhattan Arts International subscription-based email newsletter. An article about the artist will be featured on Artweek.com a website that attracts 280,000 visitors each month.
Special Awards – Selected from the 50 Finalists
Given by James Bacchi, Carolyn Edlund, Nancy Reyner and Renée Phillips
Read about their criteria and descriptions of their awards on this page.

Entry Fee: $30 for 1-3 entries, $10 for each additional entry. Maximum 6 entries. Payable on PayPal.com. You don't need to have a PayPal account. PayPal allows you to pay with any major debit or credit card. 3D artists may submit two views of up to 3 entries without additional charge.
IMPORTANT: IMAGE REQUIREMENTS
* 700 pixels on the longest side in .jpeg format. File size no larger than 600 kb. Resolution 72-100 dpi.
* Images must be cropped properly and not include frames or background objects.
* How to Label Your Entry: Last name_First letter of first name_First word in title_Number that corresponds with number listed on the entry form. Example: Phillips_R_Sunrise_1.jpg
If you need help resizing your jpegs read 5 Ways to Resize a JPEG

IMPORTANT: SUBMISSION REQUIREMENTS
* A completed entry form, images according to requirements, 60-word statement and entry fee.
* Artwork must have been created within the last 3 years.
* Art currently or previously shown on this website will not be accepted.
* Artist must have their own website or blog.
* Submissions directly by artists, not by their agents or galleries.
* Incomplete or incorrect entry forms will not be judged.

Acceptance Notification: Within two business days after your submission, you will receive a confirmation from entries@manhattanarts.com. If you don't receive it and it's not in your spam folder please contact us at entries@manhattanarts.com.
A list of selected artists will be published on this website January 18, 2018.
First Place and Special Award Winners will be contacted directly by email and/or phone.

Your Permission: By submitting your art entries to "The Healing Power of ART", if your art is selected for this exhibition, you agree to allow Manhattan Arts International and Renée Phillips permission to promote you and your art on this website, our two blogs, and across social media networks.
Do You Have Any questions?
Send an email to us entries@manhattanarts.com and write "New Beginnings" in the subject.