Art by Mary Lou Dauray, Featured Artist of The Week
Click images to visit artists' pages.
Below the rows of images you'll find a list of artists listed alphabetically.

The copyright to all artwork shown on the Manhattan Arts International website belongs to each artist.
All rights reserved. Do not reproduce images without the written consent of the artist.
Please contact the artists directly to purchase their artwork.
Valerie Patterson
Ober-Rae Starr Livingstone
"New Beginnings" Exhibition
Kari Bienert
James Campbell
Mary Lou Dauray
Frantisek Strouhal
Mason Mansung Kang
Barbara Rachko
Teri Leigh Teed
Shan Fannin
Tracy Ellyn
Nancy Staub Laughlin
Jane Caminos
Darlene Kaplan
Keith Morant
Charlotte Shroyer
Bea Doone-Merena
Denisa Prochazka
Carol McIntyre
Ronald Story
Lis Zadravec
Anthony P. Frudakis
Chantal Leblanc
Arthur Jacob
Bren Sibilsky
Esther Sternberg
Elaine Franz Witten
Sue Miller
Michael Amrose
Patti Bradeis
Gayane Karapetyan - Gaya
Elliot Appel
Sandra Duran Wilson
Yvonne Welman
Victoria Pendragon
Carolyn Cohen
Martha Coaty
Nancy Reyner
Matti Sirvio
Gunilla Lofgren
Carol Margreither Mainardi
Alan M. Richards
Jessie Monaco
Casey Shannon
Susanne Buckler
Trixie Pitts
Linda S. Watson
Allison Coelho Picone
Leila Labelle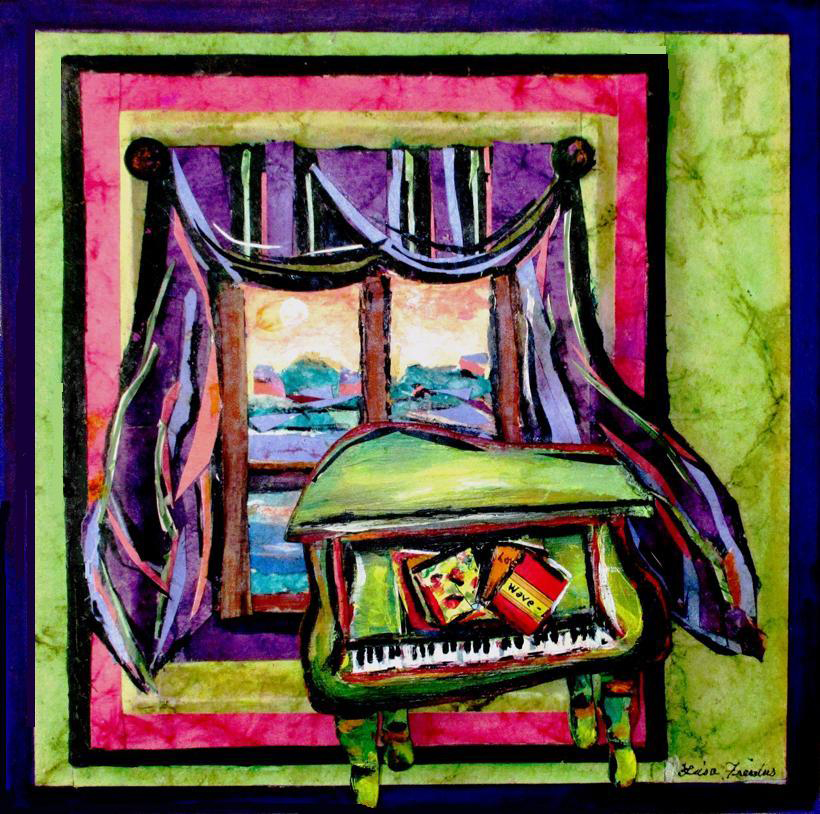 Lisa Freidus
Beth Younger
Ann Dunbar
Olivia Alexander
Elaine Hunter
Kiyoko Sakai
Valerie Patterson

Valerie Patterson presents a flawless communication of powerful messages. Her steadfast conviction to reveal the undeniable truths about the human condition is most compelling. She leaves us in a more conscious state than we were before viewing her work.

Ober-Rae Starr Livingstone

Ober-Rae Starr Livingstone is a realist painter from Canada who reveals the magnificence of the natural world. The reverent manner in which he captures the sun's rays as they dance across the sky or softly caress the distant horizon line lifts the viewer to a state of harmony and bliss.

"New Beginnings" Exhibition

Kari Bienert

Kari Bienert is an Australian painter who excels in the use of color configurations and the art of transforming geometric and curvilinear forms. She explores the unlimited potentiality of chromatic and tonal scales, visual planes and volume within a two-dimensional framework. Viewing her dynamic and exuberant works of art is an exciting kinetic experience.

James Campbell

Mary Lou Dauray

Frantisek Strouhal

Mason Mansung Kang

Barbara Rachko

Teri Leigh Teed

Shan Fannin

Tracy Ellyn

Nancy Staub Laughlin

Jane Caminos

Darlene Kaplan

Keith Morant

Charlotte Shroyer

Bea Doone-Merena

Denisa Prochazka

Carol McIntyre

Ronald Story

Lis Zadravec

Anthony P. Frudakis

Chantal Leblanc

Arthur Jacob

Bren Sibilsky

Esther Sternberg

Elaine Franz Witten

Sue Miller

Michael Amrose

Patti Bradeis

Gayane Karapetyan - Gaya

Elliot Appel

Sandra Duran Wilson

Yvonne Welman

Victoria Pendragon

Carolyn Cohen

Martha Coaty

Nancy Reyner

Matti Sirvio

Gunilla Lofgren

Carol Margreither Mainardi

Alan M. Richards

Jessie Monaco

Casey Shannon

Susanne Buckler

Trixie Pitts

Linda S. Watson

Allison Coelho Picone

Leila Labelle

Lisa Freidus

Beth Younger

Ann Dunbar

Olivia Alexander

Elaine Hunter

Kiyoko Sakai
Click artists' names to visit their pages.
A-F
Olivia Alexander
Michael Amrose
Elliot Appel
Kari Bienert
Patti Bradeis
Suzanne Buckler
Jane Caminos
James Campbell
Martha Coaty
Carolyn Cohen
Mary Lou Dauray
Bea Doone-Merena
Ann Dunbar
Tracy Ellyn
Shan Fannin
Lisa Freidus
Anthony P. Frudakis
H-P
Elaine Hunter
Arthur Jacob
Mason Mansung Kang
Darlene Kaplan
Gayane Karapetyan
Leila Labelle
Nancy Staub Laughlin
Chantal Leblanc
Gunilla Lofgren
Ober-Rae Starr Livingstone
Carol Margreither Mainardi
Carol McIntyre
Sue Miller
Jessie Monaco
Keith Morant
Valerie Patterson
Victoria Pendragon
Allison Coelho Picone
Trixie Pitts
Denisa Prochazka
R-Z
Barbara Rachko
Nancy Reyner
Alan M. Richards
Kiyoko Sakai
Casey Shannon
Charlotte Shroyer
Bren Sibilsky
Matti Sirvio
Esther Sternberg
Ronald Story
Frantisek Strouhal
Teri Leigh Teed
Linda S. Watson
Yvonne Welman
Sandra Duran Wilson
Elaine Franz Witten
Beth Younger
Lis Zadravec