Based in New York, NY, a leading art capital of the world,  Manhattan Arts International has been a leading advocate for under-recognized and accomplished artists from around the world since its inception in 1983. We are dedicated to promoting and rewarding artistic excellence in all styles and mediums.
Under the direction of Renée Phillips, founder and director, we offer a curated artist membership program, online gallery and juried online exhibitions. We provide a high quality resource for art buyers, artists and other professionals. Click here to read praise received for Manhattan Arts International
We promote artists. We don't sell art from this website.
Our purpose is to provide an online platform for artists to share their art and invite visitors to go to their  websites, contact them directly, join them on social media, and buy their art directly from them.
Manhattan Arts International has advanced the careers of thousands of artists from around the world. Artists apply to become members or have won memberships in our juried exhibitions. They have to meet specific professional standards to be accepted. Click here to visit the Art Gallery and Meet the Artists
Throughout the year we announce Calls for Artists on unique themes, such as The Healing Power of ART" , "HERStory, and "Hot Topics – Bold Expressions", which are promoted extensively throughout our social media channels and subscription-based email newsletters.

More than 30 artists are selected for each of our exhibitions.

Artists receive cash awards, promotion, publicity and special recognition and service awards.

The exhibiting artists gain visibility on the Internet and increased traffic on their own websites.
About Renée Phillips, Founder & Director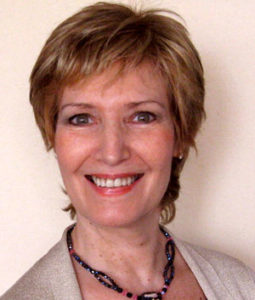 Renée Phillips, founder of Manhattan Arts International, launched  one of the first online galleries in 1999. Before that she ran Manhattan Arts International magazine for 17 years to promote emerging artists. She has curated more than 65 exhibitions in NYC and online, and is the author of several art business and resource books. Known as The Artrepreneur Coach, www.renee-phillips.com, she is a mentor and career advisor for art professionals. She has served on advisory boards on several nonprofit arts organizations.
She is also the founder and editor of The Healing Power of ART & ARTISTS, an online resource of art that has been created to heal individuals, society and the environment.
She attended The Art Students League, American Art School and other NYC art institutions. As a student she recognized there was a need for emerging artists to gain recognition, so she launched an organization "Artopia" and began exhibiting the work of fellow artists in galleries and alternative venues throughout Manhattan. As an artist she sold her work to hundreds of private collectors and corporations including Merrill Lynch and Chase bank. Her art has been featured in many publications and in Nancy Reyner's book Acrylic Innovation: Styles & Techniques Featuring 64 Visionary Artists.

As a public speaker Renée has presented keynote speeches and workshops in museums, galleries and colleges throughout the U.S., including New York University, Art Institute of Chicago, Heckscher Museum, New York Foundation for the Arts, among others, and designed and presented a series of Art and Business classes for Marymount Manhattan College.
Visit her website: The Artrepreneur Coach
Some of Our Many Friends and Associates

The success of Manhattan Arts International relies on its privilege of collaborating with many art leaders. Most recently, for its "HERStory 2017" exhibition it worked with a panel for Special Recognition Art Awards. Shown above are: Bren Sibilsky, sculptor, and founder of Algoma Atelier of Sculpture and Art; Karen Gutfreund, artist, curator of feminist exhibitions in museums and other venues, and a partner at GutfreundCornett; Jill Pankey, artist and former Senior Lecturer at Texas State University, School of Art & Design; Carolyn Edlund, founder of Artsy Shark and a renowned art marketing expert and writer who presents workshops throughout the U.S; and Nancy Reyner, award-winning artist, author of several art books, instructor, and former technical consultant for Golden Paints.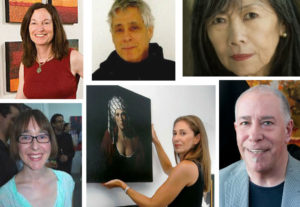 We have also had the pleasure of organizing art exhibitions with:
Top row: Barbara Markoff, owner of Artrageous Gallery, San Diego; Edward Rubin, curator, arts writer, and visiting lecturer based in New York, NY; and Lilly Wei, art critic for Art in America magazine
Bottom row: Jill Conner, art critic, independent curator in NYC, NY and founder of AS | ARTISTS STUDIOS;  Lisa Cooper, founder of Elisa Contemporary Art; and James Bacchi, co-owner of Arthaus Gallery, San Francisco; and many other prominent leaders in the arts.
~~~~~~~~~~~~~~~~~~~~~~~~~~~~~~~~~~~~~~~~~~~~~~~~~
Let's Connect! Receive Our Free Weekly Email Newsletter