We're delighted to spread the news about some of our members for the month of January 2018. The Manhattan Arts International artist membership program promotes and rewards high standards of professional excellence in our online art gallery. We're delighted to keep you updated about our members' achievements. Click on artists' names to visit their pages and view their art, read more about them, and find links to their websites. If you want to buy or exhibit their art please contact them directly. Also, subscribe to our weekly enewsletter
This outstanding photograph by Elaine Hunter was selected for the Manhattan Arts International "New Beginnings" exhibition and also won the James Bacchi, ArtHaus Gallery award. Read about her award here.
Elaine will be exhibiting her "Reflections" Series in Barcelona and Prague with the Gala Awards in 2018. Her work was chosen in the landscape category of the 10th Pollux Awards Competition 2017.
"Reflections" will also be exhibited at the Granville Performance Centre, Vancouver in March 2018. Ten of the pieces will be on exhibit from March – May 2018.
Painting by Darlene Kaplan that was selected from several hundred entries to be exhibited in the Manhattan Arts International "New Beginnings" online art exhibition. She has also added some new images of her artwork on The Healing Power of ART & ARTISTS online art gallery where you can see here.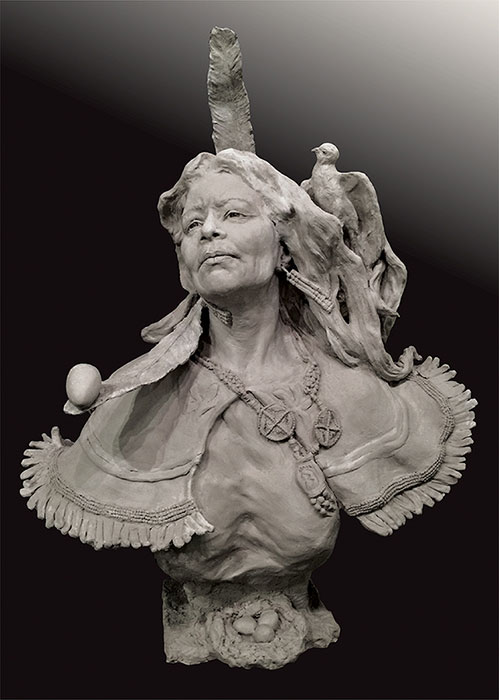 Sculpture by Bren Sibilsky, an artist who has been featured in several Manhattan Arts International exhibitions, received a top award in the Manhattan Arts International "New Beginnings" exhibition. You can read the article about her award here.
Extended Bow (Yoga) – Bronze on black VT granite, 20″ x 13″ x 6″.
Elaine Franz Witten's sculpture "Extended Bow" is on exhibition in the Catherine Lorillard Wolfe Art Club 121st Annual Exhibition at the National Arts Club in New York, NY.  The exhibition runs from  through January 26th.
We hope to receive updates from our member artists soon about their recent achievements. As soon as we receive the news we'll share on this page, so please return.