Congratulations to Our Artist Members!
Here's news about our members for the month of October. The Manhattan Arts International artist membership program promotes and rewards high standards of professional excellence in our online art gallery. We're delighted to keep you updated about our members' achievements. Click on artists' names to visit their pages and view their art, read more about them, and find links to their websites. If you want to buy or exhibit their art please contact them directly. Also, subscribe to our weekly enewsletter.
Bea Doone-Merena recently had two paintings selected for a gallery show at Flamingo Clay Studio in Lakeworth, Florida, of which, "Green Eyes" was 1 of the paintings that was on exhibit. She was also just asked to submit works to be featured on the cover and inside one of the upcoming magazine issues for the National League of American Pen Women (NLAPW). They also selected some of her pieces for the NLAPW "Art of the Week" blog.
Bren Sibilsky has an extensive featured article in the Green Bay Press Gazette about her extraordinary sculpture "Wings of Change" having been selected to show in Manhattan Arts International "The Healing Power of ART" exhibition. "Winds Of Change" was created in clay and is ready to be cast into bronze. The article also mentions that Sibilsky is an award-winning sculptor, art instructor and founder of Algoma Atelier of Sculpture and Art.

Barbara Rachko invites you to join her for the fall Open Studio weekend on October 14-15 from 12 – 6 PM. During the High Line Open Studios, forty-five artists in Chelsea, New York, are opening their studios to the public. In Barbara's building at 208 West 29th Street you can view work by seven artists.
Gaya's tactile abstract artwork is included in the group exhibition "Textures" at Artusiasm Gallery. in Toronto, Canada. The exhibition runs from October 5-15, 2017.
Lis Zadravec has announced that her piece, "I Dreamt Hellfires While You Were Gone" won 3rd Place in Mixed Media at the Waterford Fair in Virginia.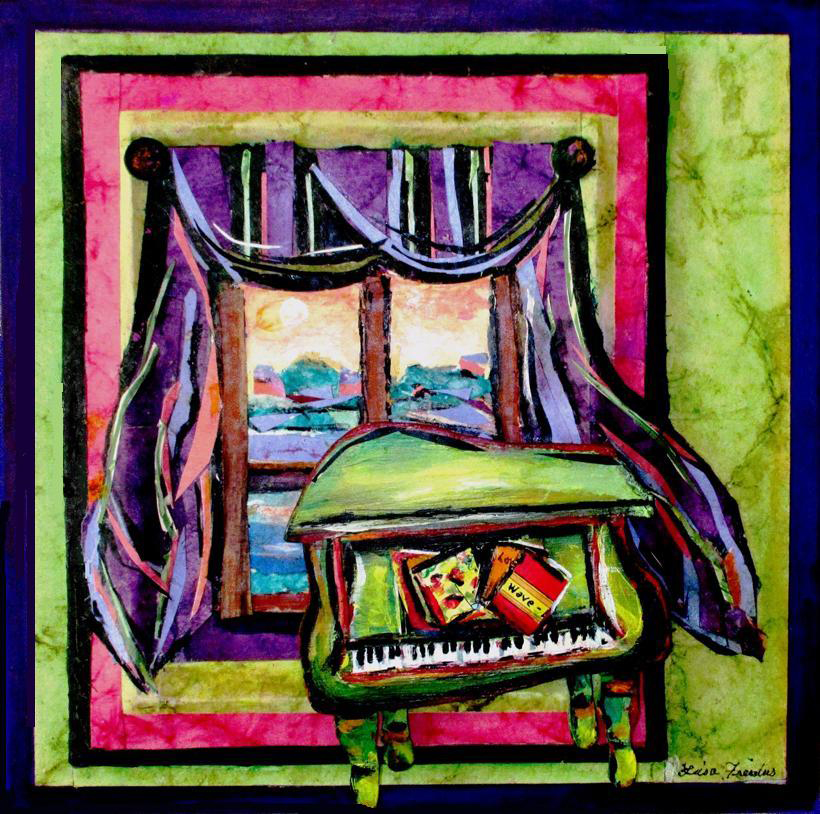 Lisa Freidus has announced that her painting "Local Color" is one of 25 paintings selected, for the "live" auction, at Arts for ACT Annual Gala to be held November 11, 2017 at the Hyatt Regency in Bonita Springs, Florida. It is a colorful and whimsical acrylic on canvas and designed in the style of trompe t'oeil, similar to her painting above.
Sue Miller is participating in The Federation of Canadian Artists Annual International Representational Show, at the Federation Gallery in Vancouver, BC. She received news that her painting "Water of Life" was awarded an Honourable Mention. The jurors were Ellen Van Eijnsbergen, David Wilson, and Gerry Thompson. The show runs until October 29th.
Trixie Pitts is included in the group exhibition "King Woman" at the Pen And Brush Gallery, 29 E. 22nd St., NYC. The exhibition runs from October 12 to December 9, 2017. Her bold and vibrant abstract painting, "Chasing Blue" (shown above) is in the show.
Lis Zadravec had two pieces juried in as finalists for the prestigious 9th annual Expressions Portrait Competition displayed at Artspace Herndon, "Honi Soit"  and "The Dangling Conversation". Her two pieces at the 73rd annual Waterford Fair Fine Art Exhibit both won ribbons. First Place for "Little Wing" in Drawing and 3rd place in Mixed Media for "I Dreamt Hellfires While You Were Gone". She is looking forward to showing four of her works with the Colored Pencil Society of America's District Chapter 109 at Gallery Underground in Crystal City, VA this November in their show entitled "There's No Place Like Home" and five pieces at the Kensington, MD library with Montgomery Art Association.
Having recently gone through radiation for breast cancer, Lis enjoyed the puzzle table where she could put her creative mind to work instead of fretting about the radiation treatment. She thought it was such a good idea that she donated several puzzles of her own artwork for the patients to do. "Even though it is my own painting," she recounts, "The Persistence of Persimmons is a really hard puzzle to do!"
Frantisek Strouhal presents his new project, a book titled "Art Embracing Awareness" filled with transcendent images, poetry and short stories. It is meant to be a companion, a soul friend. The insights for this project have been like finding bits of himself on the path, and he looked and he learned and continued.  A decade later, he looks back to see how these bits of himself make up this book. Essentially, they all speak about love and spirit. As alchemist of ordinary, he invites you to touch, to see, his way into the heart of life. He was drawn to this because as an artist he was looking for expressions useful as inner food."
"Ronald Story's artwork is outstanding", stated John R. Math, Founder & Director of Light Space & Time Online Gallery and he chose two of his paintings "Understanding Destinations" and "Trusting" for its online exhibition titled "Seascapes".  The gallery received 582 entries from 26 different countries from around the world.
Carolyn Edlund, Founder of Artsy Shark selected Story's painting "Power of Seed", acrylic on canvas (shown above) to be published in a photo article titled "The Abstract World" in November 2017.
MORE MEMBERS' NEWS WILL BE ADDED THROUGHOUT OCTOBER 2017.