It's a pleasure to present Manhattan Arts International's third annual New Beginnings exhibition with an outstanding array of imaginative interpretations of this theme.  The artists selected for this exhibition reflect the notion of "New Beginnings" with artistic originality and a proficiency in their styles and mediums. The jurying process was extremely challenging due to the outstanding quality of entries received from artists worldwide. To read about my curatorial process and criteria please visit this page. Enjoy the exhibition, please comment below, and visit the artists' websites.  If you'd like to learn more about our upcoming exhibitions please subscribe to our free email newsletter. ~ Renée Phillips
The banner image is a cropped image of a work of art in colored pencils, wax bars, and oil pastels by Len Cicio.  The copyright to all artwork shown here  belongs to each artist. All rights reserved. Do not reproduce images without the written consent of the artist. Please contact the artists directly to purchase their artwork.
Click images for larger views.
Special Recognition Awards
James Campbell
Migrations, acrylic on wood and aluminum, 47.5″ x 39″ x 2.5″.  Migrations, flights and dreams all begin with views from a new vantage point. My wall sculptures "Flights" series takes off with the symbolism of the wing structure. Imagery is fueled by fleeting impressions of what I may see from 35,000 feet, or caught up in the open vista of imagining that an airplane might desire the freedom of flight. campbellarts.net
Valerie Patterson
Entering The Fairy Tale, watercolor, 27″ x 35″. As children we are initiated by our peers into a symbolic Fairy Tale world which revolves around a belief that all will be well as soon as… As we age and experience, we realize that the Fairy Tale is a myth. We don't need to believe in outside circumstance but rather in our inner self, our own strength. We so often must begin anew.  valeriepatterson.com
Bren Sibilsky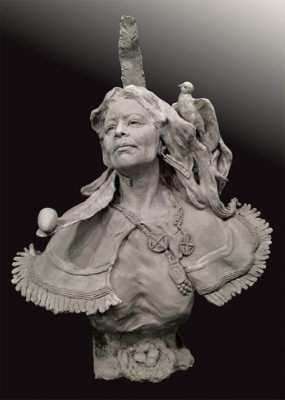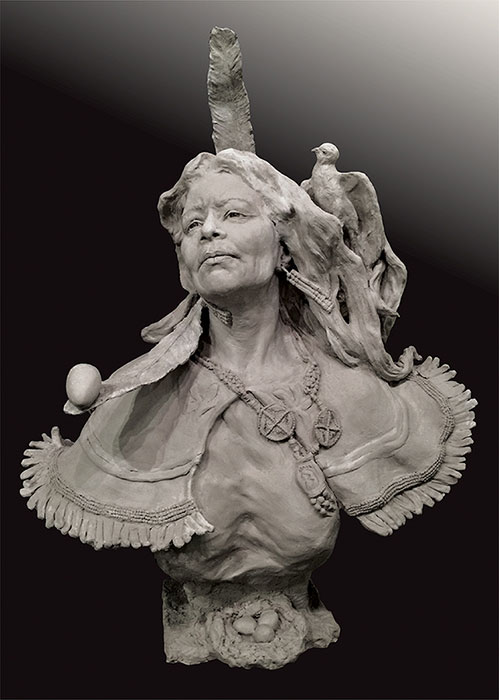 Woman of Prophecy, clay, 35" x 26" x 18". Follow your heart and eyes said the spiritual leader. So with inner eyes, I looked into my heart and found fear, as a precarious egg rolled down a feather. A prophetic woman appeared, understanding the egg would roll and break, assured me it is part of creation, explaining what is inside must be revealed. Trust the creative force of beginnings.  brensculpture.com
Elaine Hunter
Sechelt Tree 1, photograph, 36″  x  24″. This small but resilient tree grows out from a rock at the beach in Sechelt. It has grown this year and each branch is reaching out creating new life. I have studied this tree for a few years now and create beautiful art borrowing its radiating strength. elainehunter.com
Gale Rothstein
My Life as a Boy, assemblage, mixed media,16″ x 18″ x 5″.  All the roads in my life have led to this journey as an assemblage artist, from painter, illustrator and jewelry designer, to a path I hadn't traveled — familiar but new.  The many objects, inherited, captured — rescued from asphalt or sand —  rearrange themselves in shelves and boxes.  New images raised from old, new art emerges. galerothsteindesigns.com
Sheri Rush
Progress of the Opus, spray, acrylic and oil paint on canvas, 84″ x 116.5″. My current work explores the contemporary diminishing experience of nature. Layers of landscape are viewed through the phone camera pointed out the windows of cars or trains or planes in which we travel, the vast world becomes a blur, moving from description to the communication of pure visual experience. Spaces exist where windows become portals, an experience of new realities. sherirush.com
Awards of Excellence
Denisa Prochazka
Love Manifested into Being, porcelain clay, 22" x 16" x 6". The need for creation became reinforced with the birth of my own son and the desire to heal, protect and empower. This sculpture depicts a dream vision of my own family coming into being. A symbol of unconditional love, immense beauty, protection, guidance and vast responsibility. Our fate, our life, our being – intertwined in each other's hand.   denisaprochazka.com
Darlene Kaplan
Hiding Koi, Chinese watercolor, 22″x27″. I paint in the oriental brush painting style following the seasons. I will paint from early spring starting with new plants as they raise their heads to greet the world or maybe a pair of birds waiting to start a family. I will paint nature in all its glory from the beginning of the spring until the end of winter.   darlenekaplan.com
Jill Pankey
Cha Chas, oil on canvas, 36" x 48". The intention of this work is an exploration of life around me, and the never-ending experimentation with color and just how far I can push it to do what I want. In past and present work, I have experimented with the provocative theme of the aging female with a focus on humor, color, pattern, movement, anatomy and diversity.  jillpankey.com
Mary Gerakaris
Clinging to the Past, photograph, 11″ x 14″.  I attempt to share a new vision of the mystery and beauty around us. My purpose is to capture and not alter what I see. I compose with my camera, manipulating color as minimally as possible. I find compositions in flowers, reflections, shadows and details of decaying buildings. My goal is to enlarge them into thought provoking abstractions.  maryg-photo.com
Jan Schnurr
Laurel, pastel drawing and other media, 36″ x 72″. My art explores the external/internal and spiritual/physical artistry that surrounds us in our everyday lives. I am interested in the notion of beauty from color through natural and man-made patterns. Each day, there are "new beginnings", influences in my art that have come from nature through gardens, coastal regions and the celestial sky, and fabrics, sewing patterns, prismatic stained glass.  janschnurr.com
Elliot Appel
Broadway Rhythm, acrylic on canvas 14″x 18″. As an artist, I want the viewer to begin to notice everyday objects that are unique to 'the city'. All too often, people may find themselves rushing from place to place without noticing the beauty, history, and diversity that surrounds them. They may not have an opportunity to appreciate things that contribute to making urban living worthwhile and enriching. elliotpaints.com
Linda Lowery
Six Dancing Babies, oil on canvas, 36" x 72". In the beginning we danced. From their facial expressions to the twisting of their bodies, my dancing babies express their humanity and urge you to acknowledge your feelings as you go through the dance of life. lindaloweryartist.com
Leanne Fink
After the Rain, oil on linen, 24″ x 24″.  The imagery in 'After the Rain' evokes feelings of renewal as the mist rises and the air clears from a late afternoon storm. The expressive yet representational style together with a palette of vibrant colors create a positive, uplifting experience for the viewer. leannefinkart.com
Lisa Botto Lee
My Oyster, charcoal and pencil, 30″ x 22″. "My Oyster" has several symbolic meanings. The circle represents continuous new beginnings. The world in your hands represents infinite possibilities. It's never too late or too early for a fresh, new start. The oyster represents a new birth as the pearl takes years to cultivate, but then becomes a beautiful symbol of new beginnings both spiritually and personally. The world is your oyster.  lisabottolee.com
Nancy Calef
Secret Ingredient, oil on canvas, 30″ x 40″. I create "Peoplescapes" in oil, sculpture, and applied objects on canvas, weaving together narratives about contemporary life, addressing cultural, political and spiritual issues, filled with layers of symbolism and humor. This oil painting "Secret Ingredient" highlights the new reality of our total loss of privacy.  nancycalefgallery.com
Cynthia Decker
Personal Growth, digital rendering.  I strive to create scenes full of potential stories, ideas ask for interpretation, places that invite people in and let them complete the narrative. I'm inspired by the everyday, by small moments and new ideas. I take these inspirations and present them to you the same way I see them in my head—as places you can discover and explore. curious3d.com
Deb Ehrens
 Eucalyptus Dancing, photograph, 20″ x 20″. In my series "Adrift", botanical ephemera destined for the compost pile begin life anew as lyrical and meditative imagery. I bring botanical bits from my garden to woodland streams where I create carefully layered compositions. Then I secure them in moving water and with my lens capture the conversation that ensues as these two worlds dance around one another.  debehrens.com
Lis Zadravec
The Dangling Conversation, colored pencil, 25″ x 15″. Making a new beginning is not an easy thing. These are times of decision, which can bring with them apology or no apologies, regret or joy, fear or bravery. I try to capture the very thought process in my narratives. liszadravec.com
Karen Johnston
Forward Glimpse, acrylic, 24″ x 24″.  My work is a dance with freedom. I paint what I feel. I let my insides expand in color so that my emotions can have new life. My art invites the mind to trust the fresh beginning and the heart to melt deeply into being. With intuitive expression, my paintings encourage a path of renewal and blossoming toward the light. studiokarenjohnston.com
Sue Miller
Just One More, oil on canvas, 18″ x 18." I'm currently developing a series on glass exploring the connection we have with alcohol. Alcohol often illustrates the character of an occasion. A toast, for example, will take place when celebrating a new beginning such as an engagement, wedding, or promotion. Depending on circumstance, alcohol may bring people together or tear them apart… starting new chapters in their lives.   smillerart.com
Halide Salam
TransLight, oil on canvas, 60" x 60".  Living in a liquid abyss of changing environments, each painting is the Way in which I reconcile the experiences that began prior to our consciousness to the stories of my forbearers, my cultural beliefs, dreams, and my unconscious thoughts. Painting in these moments of recognition connects me to all these 'all-at-once' zones, creating new timezones. halidesalam7.com
Alan Majchrowicz
Basalt Life, photograph, 20″ x 30″. This image represents my interpretation of primordial Earth and some of the elements and conditions which gave birth to life, earth water atmosphere and light. I created the image with a raw and harsher feel to better represent the barren and unforgiving environment from which new life struggled to emerge.  alancrowephotography
Teri Vereb
Embracing Love, acrylic, triptych, 30" x  72". I create paintings representing the human condition. My intention is to create intriguing imagery that encourages an awareness of the social experiences of others. Awareness, being the beginning step to understanding, compassion, and tolerance, has the potential to open the possibility for change. My conviction is to beautifully expose these sometimes hidden or oppositional feelings to offer a gentle awakening. designsbyteri.com
Roslyn Rose
Beach House, photographic montage, 14″ x 18″. My new photographic montages were inspired by accepting the reality of Global Warming. Each photograph that was combined into a print was used tell a story of the possibility of a future reality. By combining reality with unreality I go beyond the traditional photograph. Viewers are invited to blend their own imagination with the illusions I present. roslynrose.com
Laura Paray
Beyond the Foggy Path, oil on canvas, 36" x 30". The ever-changing light effects of nature touches all aspects of my art – from the dramatic effect of sunlight cascading through a landscape to the soft subtleties of a foggy Maine morning. With every oil painting, I translate my impression of nature's light onto my canvas. lauraparay.com
Kristina Kossi
Musing, cement, 10″ x 10″ x 10″. This sculpture represents a new beginning for me. 'Musing' is the first sculpture that I have created in my new studio. I am working out of the studio on my own, honing my craft from imagination. New Beginnings represents new challenges, new ideas, and a new promising body of work that I am very excited about.  kristinakossi.com
Ana Tamara
Staging, acrylic on canvas, 36" x 36". After many years working figurative, I decided to follow my tendency to construct and deconstruct, to free my creativity. Even though I have created abstract paintings before, moving from Miami FL to Augusta GA in 2017 was the jumpstart to new beginnings. New thoughts, and feelings have emerged, and my life is being showered with new energy that I want to apply to my new work. anamitamara.com
Samantha Combs
 Trudge, bronze, 7″ x 10″ x 3″. Although I studied sculpture for my BFA, this is the first series I've worked on since graduating in 2010. It is my intention to capture how the energy of an environment is affected by an individual's movement by exaggerating musculature and motion into graceful shapes that ebb and flow into one another. samcombs.com
Dawna Boehmer
Great Expectations, oil on canvas, 48" x 36". My paintings are done with humor, lots of color, and an optimistic attitude. I maintain hope for artistic success, personal fulfillment, and warm human connections.  dawnaboehmer.com
Carol Hanna
Chestnut Sided Warbler Song and Flight, acrylic and resin on canvas, 32″ x 40″. I have endeavored to interpret the songs of birds using a visual language that represent the color of the birds and the notes of their songs. A new beginning is to show the flight pattern or represent sound as rhythm, pitch, and softness or loudness.  carolhanna.com
Laura den Hertog
The Power of Music, oil on canvas, 48" x 24". Imagine you could see the subtle energy at the core of our reality. This how I see the world. In the past year I have literally had a new beginning by sharing some of what I see through my art. A world awash in light and energy.   lauradenhertog.com
Ronald Story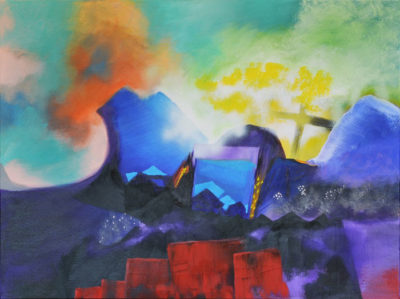 Power of Seed, acrylic on canvas, 36″ x 48". My aim is to take viewers on imaginary journeys as they traverse and unravel the many robust visual layers of my paintings. It is my wish that my paintings invite viewers to explore and make new visual discoveries. Paintings I create invite viewers to reconsider new beginnings to view their endeavors as a continuous cycle of amazing wonder and gratitude. ronaldstoryart.com
Mary Lou Dauray
Inner Mountain, mixed media on paper, 30″ x 20″. Mountains in the Southwestern part of the United States contain minerals and deposits more than 160 million years old created during the beginning of time. My art hopes to awaken a call to protect these areas from exploitation by our current fossil fuel hungry and destructive administration.  maryloudauray.com
Len Cicio
Under Inwood Tracks At 215th Street, colored pencils, wax bars, oil pastels, 11" x 14".  My art, in architecture or nature has at its core, a concept of new life transformation. My train renderings take you from a dark, distant perspective, into energized colors, reaching out from the paper. lcicioart.com
Joy Hagen
Slash & Burn: Flow, encaustic and detritus from prior works, 38" x 162". I am a child of the Pacific Northwest and a painter in encaustic medium. My art depicts environments that reflect upon color, pattern, and mood and speaks to remembered moments through selected bits and pieces from the natural world, usually referencing trees. Like a walk in the woods, there is always a new and different path from which to explore. joyhagenart.com
Teri Leigh Teed
Beginning of Fall, photograph. Forests have always felt like cathedrals to me, and time spent here in Nantahala is very spiritual. As the brilliant rays from the sun break through the trees' branches, sermons of illumination create pathways to new beginnings. Light always arrives at the right time and fills our hearts with peace and hope. And in that moment, we are transformed.  terileighteed.com
Hayley Haddad
Ephemeral Excavation, drawing, ink wash, collage, image transfer, acrylic, gesso on paper, 32″ x 46″. My work portrays a synthesis of time's inherent cyclic process of construction, degeneration and reconstruction. Amidst multitudinous perspectives, there is an interpretive climactic instant of enlightening alteration within the fluctuating scenes; a transformative peak of action. This introspective experience provides an oscillating narrative that explores the multifaceted concept of history as a co-occurrence of the past, present and future. hayleyhaddadart.squarespace.com
Davit Mirzoyan
Sweet, sweet#3, computer graphics in Illustrator. My geometrical abstractions stand to reflect the profound succession of the ongoing metamorphosis of the universe. Every new beginning emanates from and is deeply embedded in the preceding stage. Both are usually so closely intertwined that it is hard to discern the transition, which is often veiled by several layers of parallel sub mutations and side formations.  davitmirzoyan.com
Kristen Eisenbraun
Corruption, oil on canvas, 66″ x 95″.  New beginnings can be seen everywhere we look. My paintings depict individuals leaving all cares and worries behind and starting fresh in an enlightened new world. The subjects I depict find love in others, in their surroundings and in themselves. No matter where they are they see beauty, and the light shines on them as they recognize their fresh start. artistkristeneisenbraun.com
Terry Runyan
Flow, mixed media, 30" x 40″. I enjoy exploring the mystery that unfolds with mark making in line, shape and color. I seldom have a plan when approaching a piece. I see art as a journey of self-discovery and a means to connect, communicate and share with others. In the past year I have made a transition from a 30-year career as an illustrator to fine art. terryrunyan.com
Ruth Soller
Cottonwood Creek Grand Tetons, oil on linen, 24″ x 30″. My work expresses my emotional response to the awe of the beauty of nature. I struggled to continue creating while my father succumbed to Alzheimer's and cancer. I have discovered a sense of renewal and healing energy in nature and hope that you will experience peace and joy as you view my artwork. solleroriginals.com
Yvonne Welman
Kingpin, Together We Can Beat Them, mixed media, acrylic, 59″ x 59". After a tragedy in my personal life this painting marks the beginning of my new life. My painting is the anchor, which keeps me safe in the chaos around me. Painting forces me to be part of this world, to stay hopeful. This painting tells us, that together we are strong enough to resist all the people that try to use others for their own purposes.  yvonne-welman.com
Toni Silber-Delerive
Nysa City Suburb, acrylic on canvas, 36" x 36". My aerial view paintings are landscapes seen from an above ground perspective. Influences are the world around me. I derive each and every idea and image from something I see, dream, touch or observe. The act of creating is an extension of my vision that I can share with the world.  tonisart.com
John Weller
Oxbow Sunrise, photograph, 20″ x 30″. I wander at the edges of water in early morning light. Moments of soft luminescence and pastel color, shrouded in mist, summon serenity. Cool air and water painted by the sky announce a new beginning: a new day. In solitude and silence the shutter clicks; a memory to take away.  jfweller.com
Lee Tisch Bialczak
First Snow, soft pastel, 16" x 22". As a contemporary landscape artist, I paint to capture the emotional and inspirational gift of nature with soft pastel. Accomplishing this vision with light and color, I strive to create a sense of energy that renews the spirit, and awakens our perception, seizing the essence of nature at its most significant moment.  leetischbialczak.com
Fernando Rodríguez Durán
Death of Venus, oil on canvas, 39.4 inches in diameter. I practice figurative painting with scientific imagery. I´m mainly interested in astrophysics and biology, and its meeting points with cultural beliefs and daily perception. With the scientific advance the gods that lived in the sky died and became planets. The heavens were dead. But just now, again, we are beginning an inspiring search for life in the sky.  nanosfera.org
Renata Bosnjak
Jesus, oil on canvas, 22" x 28".  Jesus is new beginnings.  artbyrenata.pixels.com
Matti Sirvio
September Lake, oil on paper, 26" x 19". During my travels around the world I have learned that pain is common to all people. It often brings people together. We need to receive help, comfort and hope from one another. The most amazing stories are when people recall how they were not left alone in their darkest hours. Life comes through death. Light shines through darkness. Joy overcomes pain. I wish to bring more hope to others with my art. mattisirvio.com
Nancy Staub Laughlin
Take Me to the Glitter, pastel on paper, mounted photographs, 35" x 50". My assemblages represent a new concept of the "still life", created by layering juxtaposing elements: nature vs. glitter. The viewer is immersed in a glowing, dazzling world of color, light, dimension and beauty. These effects allow the viewer to pause and restore. These compelling compositions are the culmination of many carefully executed steps that define my creative process. nancystaublaughlin.com
Leonora Husveti-Frenette
Going My Way, paper collage, 14″ x 11″. I lost my health and previous career in the performing arts when I collapsed with Myalgic Encephalomyelitis. After seven years of debilitation, I transformed grief into creative expression through the healing power of art. Becoming an artist was a new beginning. My work uses images or symbols of renewal to communicate hope, strength and growth.  lhf-art.com
Katerina Kaloumenou
Still Life, oil on canvas, 23" x 31". New beginnings for me means taking on the experiences and challenges of using different materials and techniques including oil, acrylic, mosaics and mixed media to express the feeling of realism and fantasy. katerinakaloumenou.com
Michael Ehrhardt
Into the Height, acrylic on canvas, 40" x 32". My paintings show people in their individual inner worlds. The surreal game with colors and dimensions shows the inner emphasis of the perceived. In the painting "Into the Height" I'm dealing with a person at a turning point in his life where he has to separate from certain habits to be able to start a new period of life. michaelehrhardt.de
Patti Bradeis
I Do, graphite, carbon, charcoal, 10″ x 6.5″. Each drawing refocuses my perspective toward the lighter, happier, positive side of each new day. And, I have seen the same effect on people when they view my art work.  A monumental, personal 'new beginning' that has no ending in sight.  belovedportraitsbypatti.com
Helen Kagan
Magical Fall, acrylic and mixed media on canvas 36″ x 24″. I believe art heals. I believe in mind-body-spirit connection. I believe the World needs spiritually-based intentions, beliefs, values, and lots of positive energy NOW. My unique "Healing Arts" I've been developing over 20 years bringing together Fine Art & Art of Healing by integrating healing frequencies of color, positively charged intention, embedded spiritual messages, and energetically balanced composition, can enhance healing to those in need. helenkagan.com
Kelly Sooter
Desert Home, oil, 24" x 24". Every brush stroke or new white canvas on my easel – holds the promise of a new beginning. My paintings tend to be atmospheric or broody  –  depicting early morning, early evening or lots of atmosphere. When viewing my landscapes, I hope you begin to recall landscapes from your past that have been buried deep down for too many years – needing to come to the surface. kellysooter.com
Margarita Iakovleva
Strawberry Fields. Celebration of the childhood, from the "Impossible is possible" series,  acrylic on canvas. 36″X30″. I believe that science and spirituality are coming closer together and Magic could return to our life. margaritaartist.tumblr.com
Honorable Mention Awards
Click images to view enlargements.
Thank you for viewing "New Beginnings". Please comment below and subscribe to our free email newsletter.