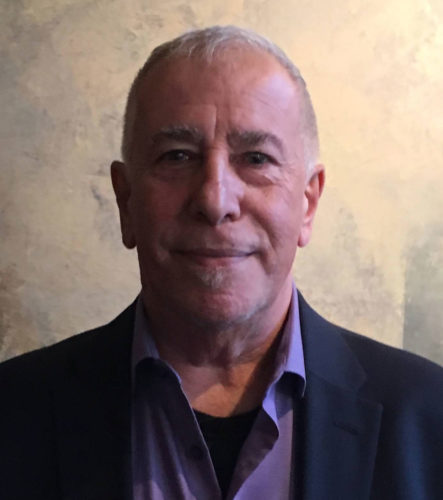 James Bacchi is co-owner of ArtHaus Gallery, www.arthaus-sf.com, an award-winning San Francisco, California contemporary fine art gallery that shows diverse subject matter, media and styles. He is also an Iphoneographer – #inthesky photography. Read an interview with James here.
I've had the pleasure of knowing James since he was co-owner of a leading gallery in New York, NY and have admired his eye as an art connoisseur and his many accomplishments in the art world. We've been fortunate to have him serve as a juror in previous Manhattan Arts International exhibitions. When  I asked James to join the Special Awards panel in the Manhattan Arts International "New Beginnings" 2018 online art exhibition I was honored that he accepted my invitation.
James Bacchi was very specific about his criteria going into this competition and stated, "I heavily rely on first impressions; originality, execution, technique and use of medium. My hope is to discover an image that not only speaks to new beginnings, but also one that provides inspiration while excelling in technique. My search narrows further to consistency in terms of style and presentation."
Elaine Hunter, Sechelt I, photograph.
James chose Elaine Hunter from the 57 exhibiting artists to receive his award in the "New Beginnings" exhibition. He stated, "It was an honor to select a winning image for 'New Beginnings'. Elaine Hunter's 'Sechelt I' was a standout. Her larger scale, color photograph is both dramatic and arresting. In regard to New Beginnings, Hunter beautifully captured both the delicacy and the resilience of her muse. It is with great pleasure that I present Elaine Hunter with the ArtHaus Gallery Award."
In addition to receiving this honorable recognition from James, as part of his award he has generously offered to give Elaine a one-hour phone consultation that includes a review of her artwork.
Elaine Hunter, Sechelt II, photograph.
Elaine is ecstatic about the award she has received from James Bacchi. This is how she responded: "Receiving the James Bacchi ArtHaus Special Award in the 'New Beginnings' exhibition was such a surprise that I had to read the email several times to know that it was real. It is an honour to be chosen for this award when there are so many talented artists to choose from. Thank you James, I truly appreciate the award."
When Elaine submitted her entries to "New Beginnings" she offered this statement: "This small but resilient tree grows out from a rock at the beach in Sechelt. It has grown this year and each branch is reaching out creating new life. I have studied this tree for a few years now and create beautiful art borrowing its radiating strength."
Elaine Hunter, Sechelt III, photograph.
Elaine creates visionary photographic art which has been exhibited worldwide. She currently lives in BC, Canada. The photographer has won previous awards from Manhattan Arts International in addition to Best in Show at Contemporary Art Gallery Online and Colors of Humanity Art Gallery. She was honored with a Julia M. Cameron Award and her works has been featured in Professional Artist magazine, among other publications.
The artist states, "My work is an experimental journey in search of the illusive world around us. Each image reveals the mystery and beauty in nature. When I see a landscape that fills my gaze and overwhelms my soul with its magnificence, my wish is to share that feeling by producing work that will catch your eye and reach into your soul."
Visit Elaine Hunter's website at www.elainehunter.com