Artist Members Share Their Rituals
Anthropologists and neuroscientists have shown us that certain habitual actions impact our psyche and influence productivity. So, it's only natural that many creative individuals rely on habits and rituals to activate their senses, elevate their moods, or clear their minds.  For example, they may choose to wake up every day at sunrise and practice yoga or drink three cups of coffee and do aerobics to get their artistic juices flowing.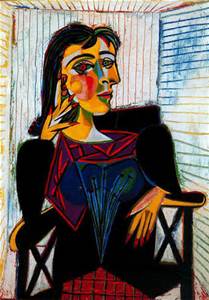 Every creative person chooses a different type of habit or ritual to find their muse. I read that Picasso would wake up late everyday, arrive at his studio in the early afternoon and work until dusk. The artist explained, "While I work I leave my body outside the door, the way Muslims take off their shoes before entering a mosque."
Every morning, before he started to compose music, Ludwig van Beethoven would prepare his own coffee. It was important for him to use exactly 60 beans per cup that he often counted one by one for a precise dose.
Joan Miro was challenged with bouts of depression, so in order to raise his serotonin level he began the day with rigorous exercise at 6:00. He would either run along the beach or exercise in the gym before going to his studio.
As art enthusiasts we share a curiosity about what artists do to get into the creative zone. So, I asked some of the members of Manhattan Arts International to explain what habits or rituals they use that help them make their unique art and attain their top creative performance.
Click artists' names to visit their pages.
Keith Morant shares, "As a perpetual student of Zen Buddhism, I try to start the working day with at least 20 minutes Zazen (meditation.) Some days are better than others as the mind clearing and detachment is not always as complete as I would wish. However, when more successful, I enter the studio just an inch or so off the ground. I then view the work in progress or begin something new with clearer vision. I play music (usually classical or jazz) and in my painting I try to emulate the power of music and evoke the universal through the specific…"
Teri Leigh Teed, who creates "Healing Spirit Art" states, "I like to start my day with positive affirmations and a cup of tea. My favorite times to photograph are early mornings and late in the day, to catch the light at its best. Living next to a national forest gives me a fabulous start to the day by taking a stroll along paths from my home. There is no greater sanctuary than a forest. The filtered light and sounds from Nature are healing, soothing, energizing and stimulate creativity."
For Elliot Appel, time management is crucial. "I work during the day so I start to paint in the evening on weekdays, generally at 9:00 PM. I usually get a lot of painting done on weekends. I always listen to music; a mix of songs of all genres. Painting is like meditation for me. I pretty much block out the day's events and totally focus on my current project. Since time is limited, I almost exclusively work on one project until it is completed. I've used the same easel, paint table and other tools for over 30 years. They have served me well. It ain't broke-why fix it?"
The approach that works for Darlene Kaplan is, "I warm up my body with Tai Chi. Before I start to paint I grind my ink into an ink stone which warms up my arm and my mind. This allows me time to think about what I am going to paint and how to proceed. I guess you would call it active meditation! During the time that I am painting I listen to either Chinese music or CD's of nature sounds."
For Charlotte Shroyer, "Starting the day with work on a mini painting seems to set the tone. I can sit down, play with the paint, and not be too concerned about what 'happens' as the final result, and just have a good time.  The process starts with just a few swipes of paint on the canvas and then the symphony begins. It's always fun to see what emerges…"