Watercolor painting by Valerie Patterson, selected for our "New Beginnings" exhibition, 2018.
 About Our Exhibitions & Calls For Artists
Over 30 years, under the direction of its founder Renée Phillips, our exhibitions and curated art programs at Manhattan Arts International have promoted thousands of artists from around the world.

* Our mission is to bring a world-wide audience to the attention of under-recognized artists.
* We show a wide variety of styles, mediums, sizes of art by talented artists.
* We attract thousands of online visitors to our exhibitions.
* We are known for producing high-quality online exhibitions.
* Our promotional activities include daily promotion across several social media platforms and subscription-based email marketing newsletters.
* At least 50 artists are selected for each of our exhibitions.
* Art work is displayed prominently with artists' statements and links to their websites.
* Top artists receive promotion, publicity and special recognition awards.
* The exhibiting artists gain visibility on the Internet and increased traffic on their own websites.
* Through our exhibitions artists make connections to galleries, art consultants, arts writers and art buyers. Most recently, Lisa Cooper, owner of Elisa Contemporary Art discovered Ann Wood Mezian in our "The Healing Power of ART" exhibition and included her in an exhibition.

---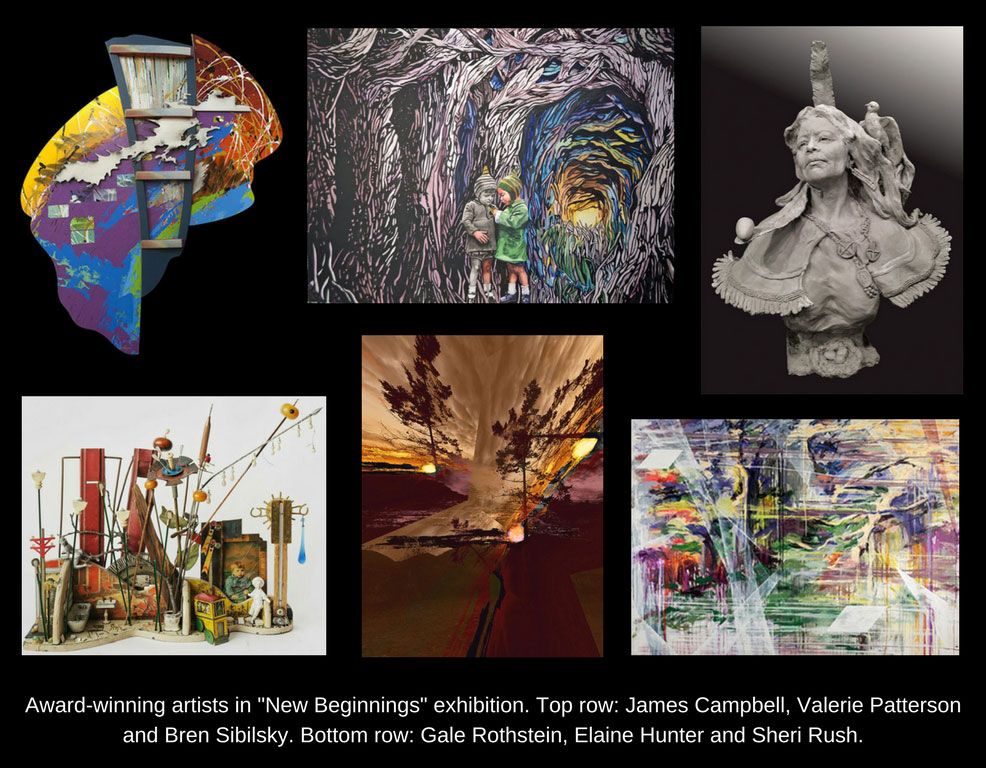 Manhattan Arts International "New Beginnings", an online exhibition January 20 – March 20, 2018 curated by Renée Phillips. A wide variety of styles and mediums reflecting "New Beginnings". Special Awards selected by James Bacchi, Carolyn Edlund, Nancy Reyner and Renée Phillips including publicity, promotion and career consultations. VIEW IT NOW.
---
One of our annual exhibitions is devoted to women artists' art in all styles and mediums. More than 50 women artists from around the world will be chosen for this exhibition in 2018. Learn more about it.
---
THE HEALING POWER OF ART – In this annual exhibition Manhattan Arts International presents art that communicates the powerful and positive impact art makes on individuals and society. This exhibition featured more than 60 artists and ran from September 1 – November 1, 2017. The theme was "Inspiring The Positive".

---
Manhattan Arts International is proud to have been presenting our exhibitions devoted to "HerStory" since 2000. HerStory 2017 was an exhibition of 63 women artists from around the world, from April 27 – June 27, 2017.  Learn more about HerStory 2017.

---
We Wish To Give Special Thanks to…
Professional Artist magazine www.professionalartistmag.com
International Sculpture Center www.sculpture.org

Artsy Shark www.artsyshark.com
Light Space & Time Online Gallery www.lightspacetime.art
For Helping Us Promote Our Calls For Artists